Amartya Bhattacharyya is not only an independent film director, but also a poet, writer, cinematographer, editor, painter, actor, lyricist, recitation artist and a photographer. He won the national award for Best Cinematography for his fantasy documentary 'Benaras – the unexplored attachments' at the 63rd National Film Awards. He has won around 15 international awards as director, writer, editor, and cinematographer and for Best film. 
His new film shot entirely in Black & White, in Odia, Adieu Godard is a delightful tribute to Jean Luc Goddard which ends with a dramatic twist. He is thrilled about the film having been nominated for screening at festivals across the map. Among these are – 20th Pune International Film Festival (PIFF) and the 27th Kolkata International Film Festival 2022. Last year, the film had its World premiere at the 43rd Moscow International Film Festival. In a one-to-one, he talks about his film intriguingly named Adieu Godard. 
Let us hear about your background
I started making films in 2012 with a short film named 'Boba Mukhosh' which is about a schizophrenic patient's hallucination. The entire film is poetry. I believe in poetic expressions and surreal forms of art. I'm happy that my films have found their place in over 35 international film festivals mainly in Europe and America.
Why the title Adieu Godard?
I a great admirer of Jean-Luc Godard. A tribute film was always on my mind. After making three surreal feature films which were mostly philosophical and psychoanalytic in nature, I wanted to do a simple narrative film for the first time. While thinking about my subject, the idea automatically came to my mind, and I allowed it to bloom. Though the form of this film is in complete contrast to Godard's formalism, I found this contradiction interesting and gripping.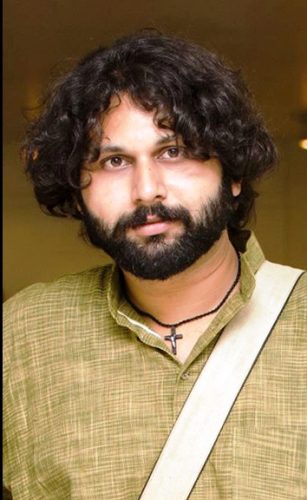 Your earlier films are abstract and entirely non-linear. This one has a linear narrative. Why?
Linear progression doesn't interest me. A key reason I did not like cinema initially was its linearity. I think it over-simplifies an idea and does not give space for a viewer to participate. As a viewer, I want to see a film in which I can creatively participate and find multiple meanings. I want to see the unseen, hear the unheard, and know the unknown. I made sure that the film remains as simple, candid and innocent as possible, both in structure and in form. 
Are you trying to send a message through the film?
Not really. I do not try to send messages through my films. In this film, it is as if I am witness to the innocent rural Indian culture which unknowingly embraces cultural diversity, but often struggles to integrate them within the conventional framework of their social realities.
It is about an old man named Ananda, who is a pornography addict. He secretly watches pornography with some friends in a conservative Indian village. One day, they accidentally come across a Godard film mistakenly rented as pornography. Though his friends are disgusted, Ananda is charmed by Godard's film and gradually develops an obsession. He initiates the idea of hosting a film festival in their village where Godard's films will be screened. The festival gets organized after a lot of drama, but what happens next is to be seen. 
Tell us something about your cast and crew
Choudhury Bikash Das plays Ananda, the aged protagonist. Dipanwit Dashmohapatra, Sudharsri Madhusmita, Swastik Choudhury, Choudhury Jayaprakash Das, Shankar Basu Mallick, Abhishek Giri, Swetapadma Satpathy and Dr. Banikanta Mishra play the other important characters of the film.
How did Choudhury Bikash Das respond to his role in the film?
He was thrilled and said, was happy to have worked with such a wonderful team. Bikash hopes that it will be as much loved by cine lovers here as much as it was loved by people abroad.
Is there any special reason why you choose to make films in Odia?
Odisha is like a second home to me. I know the language and the people quite well and I also got good producers there. Odisha has a very rich cultural and artistic history, but the contemporary works have remained confined within the region. With gradual exposure, I am sure we will see a lot of Odia films knocking at the doors of film festivals in India and abroad and making their presence felt.  
What is your personal take on the role of music in cinema in general and your cinema in particular?
Music has always been used as a support element to create or exaggerate a certain mood, if needed. I feel it is disrespectful to music which is an independent form of art. Music need not always be used as a background score. Just like an actor, an object, or a colour can be foregrounded to create a certain mood, music too can take foreground and need not follow the visuals. There are certain notions related to film music. I wish to break that. My film's music can be loud, intense, and can lead the visuals or the narrative instead of following them. I experiment a lot with music in my films, and I am glad my composers support me.
Who among Indian filmmakers, do you admire?
I love the works of Buddhadeb Dasgupta, the later works of Rituparno Ghosh.  I also like the craziness of Q. Ray's 'Goopy Gyne Bagha Byne' and 'Hirak Rajar Deshe' were very special films. In world cinema, I love the French master Jean-Luc Godard, the surrealist elements of Luis Bunuel, the poetic aesthetics of Kim Ki-Duk, and Tsai Ming Liang's experimentation with cinematic time and space. Each impacts me in a different way. I do not have any faith or respect for Bollywood cinema. I feel Bollywood films are dangerous. They destroy all cinematic sensibilities and pamper an already pampered class of people. As for other types of Hindi language films, Kamal Swaroop's 'Om Dar-B-Dar' fascinates me.