One low-key Indian film featured in the International Competition Section at the 27th KIFF was Deep 6 in Bengali directed by Madhuja Mukherjee. The film did not win any prizes but it defined the low-profile director and screenplay writer who made the film. Madhuja Mukherjee is a professor of Film Studies at the Jadavpur University in Kolkata. She is a researcher, a documentary filmmaker, a costume designer, an author who creates graphic novels but generally keeps a low profile. Though Deep 6 has a running time of 141 minutes, it manages to run like a stream flowing over pebbles on its way, through life and death, trying to keep the audience as captive as it can. Madhuja responds to some pointed questions about the film and about her work. She is also a curator of exhibitions of film installations, posters and so on which have gone to the backburner because of the pandemic.
Deep 6 had its World Premiere at the 26th Busan International Film Festival 2021, within 'A Window on Asian Cinema' section. International Premiere at the 27th Kolkata International Film Festival, 2022; in 'International Competition: Innovation in Moving Images '. Indian Premiere at the 26th International Film Festival of Kerala, 2022 under 'India Cinema Now'.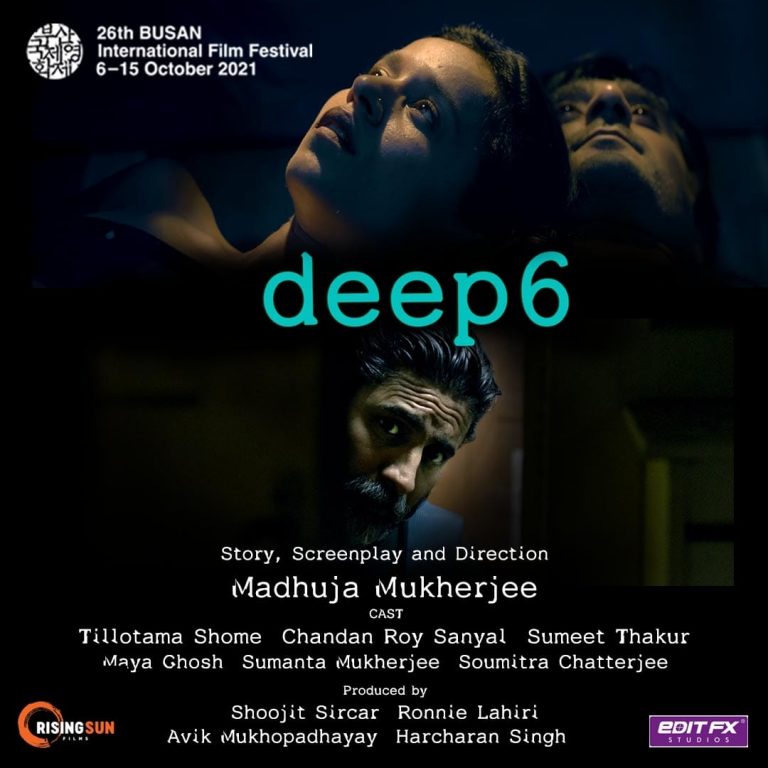 Deep Six is typically a measurement used to measure the depth of the seas into which the coffins of dead sailors flung. It signifies something that's possibly a secret, unaddressed, hidden, also it would metaphorically mean memory, unconscious and so on. 
What inspired/provoked you to make the film? 
Personal and collective dilemmas, desires, despair provoked me to imagine this film. The sense of living in a perpetual limbo, the ways in which we succumb to routine and mundane things. Even if we strive to change our situation it's not enough, and we continue to do our 'jobs'.  Impossibility of a revolution, a political movement, the bleakness of the future — all such things kept returning to me.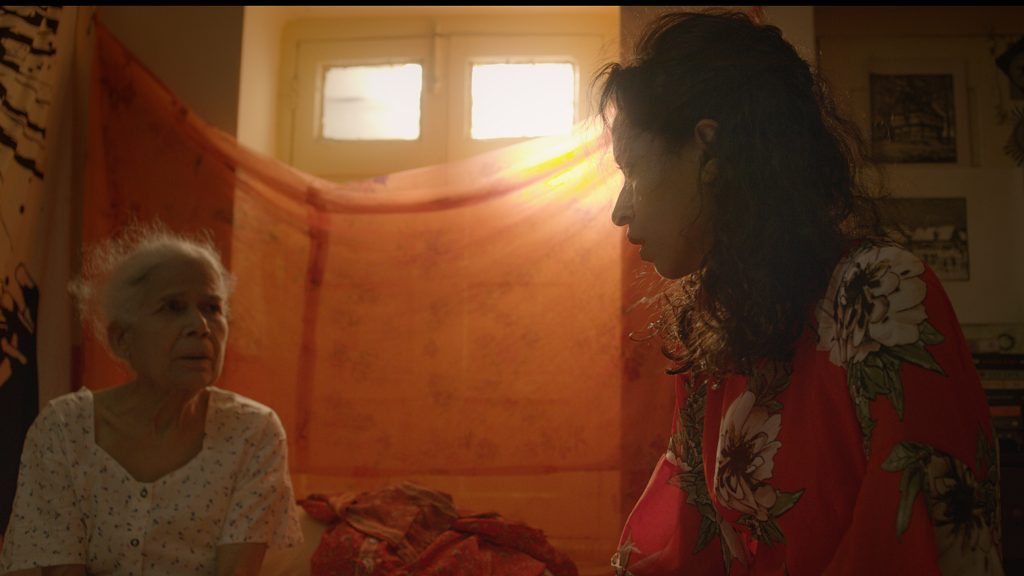 You are a qualified academic, award-winning author and graphic novelist and Installation curator of cinema. What made you venture into films?
For me research is as exciting or creative as art practice and they feed into one another. Initially before I joined Under Graduate College I had joined art college then shifted to studying Literature. Similarly, after I finished my masters in Film Studies I worked in the film and TV industry (in fact, I assisted Anup Singh in Ekti Nadir Naam when I was in first year). So these boundaries between reading, writing, and visual practice are fluid for me. 
For Deep 6 I thought the story needed to be narrated via an audio- visual medium — the interior space and the city for instance, and the play between realism and 'unreal' etc., needed to be filmed. Hence, as I kept thinking of Mitul's world it kept growing into a film and not into a graphic story or a novel or an academic paper for that matter! 
Your earlier short film, Carnival, was a non-linear, abstract kind of film. Deep 6 follows a linear narrative. Why? 
On the surface, I wanted to keep things bare, almost as though it's a love story that has gone wrong, then gradually things branch out into other problems and subjects. So, in a way it follows a natural course — like a river or a tree — and then branches out in different directions. I personally thought of the Indian classical musical structure (because I used to play the sitar) in which there are repetitions and variations.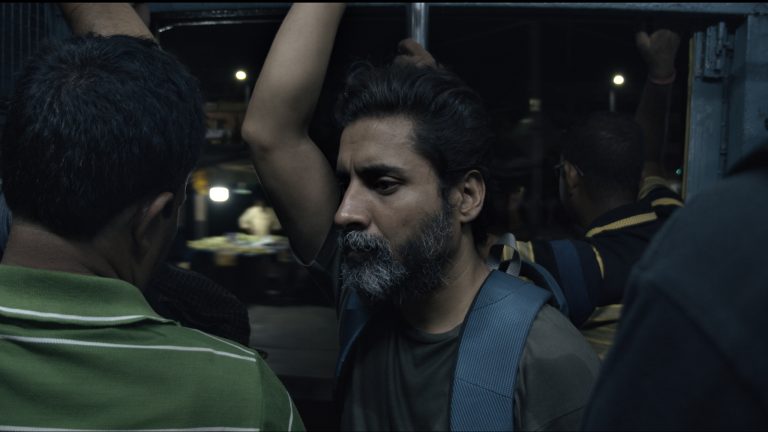 Deep 6 is more character-centric than plot-centric. Do you agree?  
I think Deep 6 is subject-centric! At the core there is a certain (unresolved) issue which takes on physical forms — family, love, work, ideology, time and space are the principal problems. Mitul bears the burden of that subject; she bears the burden of our political crisis.  The timeline is 2011, Kolkata, when the Left parties have been voted out of power after three decades. And yet, on the surface 'nothing' seemingly happens. Deep 6 digs deep into the personal and political world of a young, solitary woman and narrates Mitul's (Tillotama Shome) story through haunting imagery, an evocative urban landscape, a dense sound design, and meditative long takes. Mitul radiates like a flame in the abyss, even when she walks alone into a restaurant, through the city and inside a cinema. On a rainy night, as Arka (Chandan Roy Sanyal), her ex-boyfriend, stands below her balcony, can Mitul turn a new leaf, and step into the future? Deep 6 is an experience of the city and of our quandaries, caught in the cabinet of times.
What made you choose an entirely Bengali middle-class setting for the film?
Mitul belongs to the middle-class and carries certain baggage, Arka is from a lower middle-class family and he is tied to other ideological matters. In my understanding, it is the city which is the stage, in which Mitul walks, labourers walk, Arka walks, Aatish too. The interior space of course is claustrophobic, it's a space of a decadent class wherein there is no life.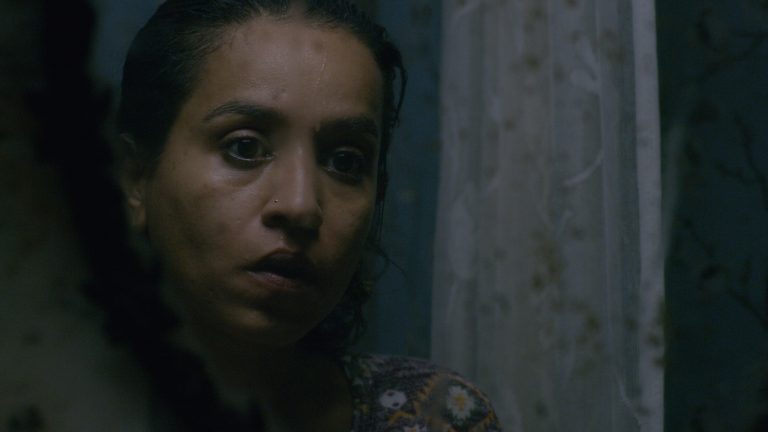 How did you zero in on the casting?
Tillotama — because she is hard to 'describe', there is an air of mystery about her. Chandan because I knew he would be able to essay the complicated role of a 'has-been' college hero who is sort of passive-aggressive. Sumeet, because of his effervescence, has a non-masculine persona. His quiet eyes, and smile, I thought were endearing. Maya Ghosh is veteran, also she has a frail quality, & loved her hair! Kalyan Chatterjee (the man delivering a speech alone) — because he represents the 1970s political cinema, Soumitra Chatterjee because the character finally completely breaks Arka. A memorable figure was required in that part. And then all of them are great performers! 
What kind of director would you define yourself as?
I am an obsessive director I suppose! I almost had the entire film on paper…including the visual design, frames, and sound design! I am meticulous but I finalized the script after the locations were locked. I, in fact, did not "allow" any technical liberties (to the camera or art departments) but with the actors I "allowed" them to grow and the imbibe the spaces in which they were placed. So many of their responses / gestures were spontaneous reactions to the space — like at the tea shop, or on the street or at the station etc. 
How long did it take from concept to the CBFC?
I started writing in 2017, we shot in 2019, and received the censor certificate in December 2021. So, five years!
It has been a difficult process because I am an outsider to this industry. Initially I tried to share my ideas with friends — including Shoojit and Tillotama — and that is how the film developed. The shooting process was also very difficult because the crew principally came from the 'industry' and their and my work ethic and experiences were poles apart! To do production design, art, costume — which means to buy / bring & coordinate stuff, physically at the location — was laborious to say the least! Also, while Avik is my partner, he is a senior cinematographer, and it was incredibly tough to collaborate with a senior cinematographer as a "first time" director. There are many more things to share as a "first time" "female" director….but that is a long story.