It was sometime in the late 1990's when Sangeet Research Academy in Kolkata organised a unique collaboration as part of the Sangeet Sammelan in early December. My Guruji Pandit Ajoy Chakraborty was to perform a "Jugalbandi" with none other than Pandit Birju Maharaj ji. As students, we never missed any of his concerts happening in Kolkata, so we were all very excited to witness something new. It was in this concert that I first saw Maharaj Ji, jostling in the crowd, struggling to catch a glimpse of the legend in his iconic bright golden attire, entering the stage in gentle steps – singing, dancing, and storytelling and taking all of us on an enthralling journey of music. Little did I know that, a decade later, this musical mastermind will become my mentor and guardian in my professional career of music!
In the autumn of 2011, I received a call from Guru Saswati Sen that I need to sing with her for a concert the very next day and Maharaj Ji would personally teach these songs to me. I had just finished my Masters in Ethnomusicology from SOAS, London and took a job in Gurgaon. This call took me by surprise. I was excited, yet nervous! On reaching Maharaj Ji's Khan Market residence, he welcomed me with his warm presence – a simple man in his seventies, wearing a half-sleeve kurta, a printed silk lungi and a woollen topi and composing music for the concert next day. "Tumhare bare mein suna to bohut hain, ab thoda gana sunaao" (I have heard a lot about you, now let's hear you) said the Master. Four new songs had to be learnt and performed the very next day at the ICCR Festival and I wasn't prepared. After Saswati Sen's performance the next day, Maharaj ji patted gently on my shoulder and said: "achha gaya" (you sang well). Today, as I recollect, this was the beginning of a decade-long journey of music-making and performing with the legend. But my dream of singing for Maharaj Ji was yet to come!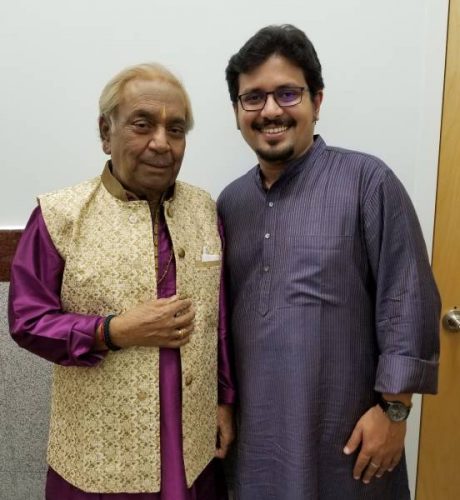 It is said that destiny has it all planned beforehand! But if one is lucky enough to get an opportunity, one also needs to prove credibility. Some months had already passed since the first meeting. It was in May 2012, when I got a call from Maharaj ji that I need to be in Mumbai the next day to accompany him at the prestigious Mudra Festival at NCPA. My dream was calling! Without a second thought I jumped into the Rajdhani and reached Mumbai. When I met Maharaj Ji at the hotel, he smiled and said, "pehle khana kha lo, phir gaane ke baare mein sochte hain . . ." (Have your lunch first, then we will discuss music). This time I was indeed hoping to sing something that I have already learnt and practiced. But "no"! That evening Maharaj Ji was in the mood to present his "iconic" items including Sheesh Mukuta, Udhav, and Mori Gagariya for the Mumbai audience, and, there was hardly any time left for rehearsal! I feared this would be my last concert with Maharaj Ji. But, God willing, it turned out to be the most memorable concert of my life ending with a standing ovation from the audience. My decade-long journey with Maharaj ji as a singer, musician, companion, student and moreover, as a companion began! And, I decided to permanently settle down in Delhi. 
Touring with Maharaj ji has been the most enriching learning experience of my musical career. Every tour around the globe meant new places, new people and new music. Our mornings would be filled with stories of Maharaj Ji's life, his performances, recollecting thumri, dadra, ghazals from the past and endless musical adda. Sometimes Maharaj Ji would also learn some Bengali songs from us, Manna Dey being his favourite. Often, he would sing Jodi Kagoje Lekho Naam or his most favourite Tagore song Ami Chanchal Hey, and include them in his concerts. Other than his regular dance concerts, Maharaj ji loved to present Baithi Bhaav for his fans which included a line-up of his favourites like Mohey Chhero Na, Saavra Giridhar, or Sapne Soye. I always waited for these concerts because that meant learning new songs, listening to Maharaj Ji's upaj in-between, and singing his favourites Uthi Haye Ghanghor, Jane De Maika, Dhaye Gaho or Jhulata Raadhe Naval Kishor while Maharaj Ji would elaborate on the stories within the songs. No matter how many hundreds of times I performed these songs together on stage, every time they came anew, with fresh interpretations of Maharaj Ji's Baithi Bhav – and that kept it all going.
We would always look forward to new compositions by Maharaj Ji in every tour. During the day-long workshops, Maharaj ji would suddenly get hooked to a refrain and we would anticipate that a new song is cooking! During the noon and the night, while we would frantically search for "Jackie Chan" movies on the television for Maharaj Ji, he would keep himself busy sketching or writing a new poem and would surprise us all the next morning with a new creation. The tours have always been an opportunity for us to spend a real quality time with the Genius. The three of us, fondly named by Maharaj ji as the "Teen-Murti"– Utpal Ghoshal on Tabla, Chandrachur Bhattacharjee on Sitar and me, would spend hours with Maharaj Ji, listening to his jokes, his free-spirited humour and interesting anecdotes of the musical personalities of the yesteryears. Sometimes he would urgently summon his "Teen-Murti" in his room; we would rush to see him with the joy of learning something new that has just been composed. While touring, Maharaj Ji would never go for a regular site-seeing, rather, would always take pleasure in looking for latest electronic gadgets in the market. His childlike excitement and his innocent glee looking at a new gadget always explained what kept him so young at heart. We never felt "away" from home – we were always "at home" with Maharaj Ji.
One thing that I learnt from him as a performer was that Maharaj Ji never took his audience for granted. He would always take a call on what to perform shortly before the performance. He always prioritized what people would love to listen to and see. This love and respect towards his audience is what reciprocated in Maharaj Ji's worldwide fame. On several occasions, severe foot injury or intolerable sciatica pain would never stop him from performing. In one of his last USA tours in 2018, Maharaj Ji was presenting his grandchildren in a couple of concerts and the central attraction was that Ustad Zakir Hussain was to join him on tabla. Just before the Minneapolis concert, Maharaj Ji was not feeling very well. We suggested that Maharaj ji can do a brief presentation at the beginning and then can join at the very end. With the full-throttle energy from Zakir Ji's presence and the cheering audience, Maharaj Ji took all of us to an eternal journey of fulfilment . . . everything was perfect, every bit of it, as he seemed to float from one corner to the other of the stage! After a breath-taking ninety minute solo spell, Maharaj Ji was still smiling, leaving all of us in awe and tears.
17th January, 2022, seemed to be a day that was completely unexpected and too early. Maharaj ji created a void in all of us and decided to move to a better place. As my car followed his ambulance towards the Dayanand Muktidham Crematorium, all these remembrances were crowding my mind. I couldn't believe that even a month ago, on the 12th December, 2021, Maharaj Ji had come to the studio to record his Ghazals and had such a fantastic session! Bandish-e-Brijshyam, my dream project along with Somdatta Basu, with eight of Maharaj Ji's most cherished compositions, had also just been completed! But a lot remained to be taught by the Master himself. At the funeral, when all the present generation of the Maharaj family joined in a series of bol parhant before the pyre was set to fire, the only thought that came to my mind was what better mantra could one chant to say a musical goodbye to Maharaj Ji! 
I will dearly miss his charming presence, his musicality and the wide smile with which he always welcomed me: "Nayan Mein Aan-Baan . . . Anirbaan". . .
Images courtesy: Anirban Bhattacharyya and Amit Dutt