The passing away of Pandit Birju Maharaj marks the end of a glorious age of Kathak. Through his ingenuity, acumen and sheer dedication he transformed a coterie dance form into one of the greatest classical traditions of this world.
Brij Mohan Mishra or Pandit Birju Maharaj, son of Achchan Maharaj, was the torchbearer of the Kalka-Bindadin gharana of Kathak. He popularized this dance not only in India but all across the globe. Born on February 4, 1938, he started accompanying his father for performances at the court of the Nawab of Rampur at a very tender age. At the age of eight he performed in a competition in Calcutta and obtained the first prize, in spite of his uncles having participated too. 
His early training was under his father. After his father's demise he trained under his uncles Shambhu Maharaj at Lucknow and Lachchu Maharaj at Bombay. He imbibed the individual dance styles of both his uncles and combined both – the virile and vigorously powerful tandava style of Shambhu Maharaj and the delicate, graceful lasya style of Lachchu Maharaj – and evolved his own unique style.
Birju Maharaj's first official teaching assignment was at the Hindustani Music and Dance Academy (later named Sangeet Bharti) at New Delhi. Thereafter, he joined the Bharatiya Kala Kendra where he had the opportunity to choreograph group compositions, something he had wanted to do for a long time. He also learnt a great deal about music from his colleagues – Mustaq Hussain Ali Khan, Hafiz Ali Khan and Aminuddin and Moinuddin Dagar – at this institute. 
He was an outstanding vocalist, a singer par excellence, having command over Thumri, Dadra, Bhajan and Ghazal. He sang from the heart, words flowing out effortlessly. He was adept at playing a number of musical instruments. A superb drummer, he was especially fond of playing the Tabla and Naal. He was also a talented painter and gifted poet. His anthology of poems titled 'Brijshyam Kahe' is evocative and replete with symbolism.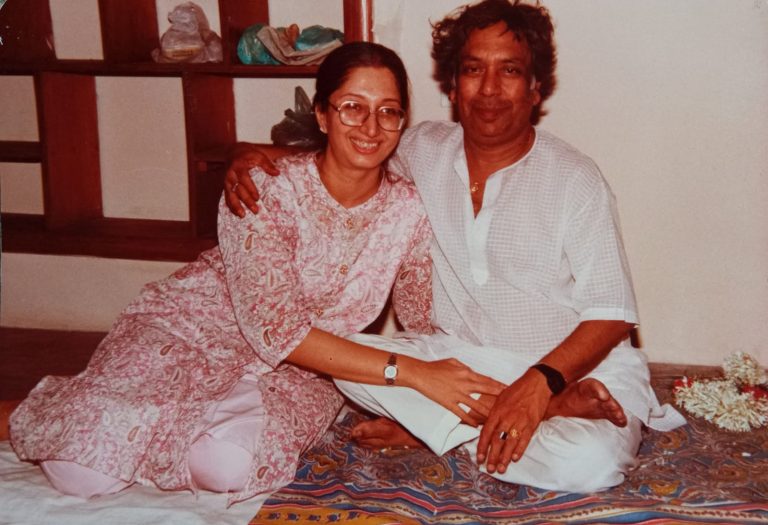 His first memorable performance at Delhi was at the Sangeet Natak Akademi Festival. Few people knew him at that time and he was enlisted for the performance at the recommendation of Nirmala Joshi. Nirmala Joshi also offered him a scholarship of Rs. 250 per month that he turned down. Lachchu Maharaj offered to take him to Bombay but his mother was against this. With the formation of the Kathak Kendra in 1964, Birju Maharaj left Bharatiya Kala Kendra and joined Kathak Kendra. By this time he was an established and famous dancer and the Kendra gave him all the opportunities that he had desired. He not only proved to be a dedicated teacher but also evolved a system of teaching that has since been accepted in the Kathak world. The Kathak Kendra of which he was the head for a number of years, also afforded him opportunities of giving innumerable performances – solo and group – all over the world.
His solo dances have become for many years an integral part of any musical conference of repute and no musical conference was complete without a performance by Panditji. Even in the early part of his career, he was part of cultural troupes sent abroad by the Government of India to represent India at various festivals. He extensively toured all over the world for performances as well as lecture-demonstrations.
He possessed a unique ability of creating rhythmic compositions covering a wide variety of tempos and sound syllables and imbuing them with imaginative interpretations. In fact he easily created new cadences and configurations with rhythmic beats. This gave his performances a constant freshness and appeal. His in-depth understanding of melody and rhythm enabled him to compose music for all his dance items.
A master storyteller, he interlaced his performances with incidents from his life, narrated to captivate the audience. Also being keenly observant, he always had something to say about day-to-day incidents, keeping people around him entertained with realistic imitations and vivid descriptions.
Pt. Birju Maharaj has imparted a new dimension to Kathak, by experimenting with his technique in the application of dance dramas, which has today become a very successful medium for mass propagation. As a choreographer, he was the finest in the country. His bold and intellectual compositions on traditional themes are brilliant, whereas his contemporary works are also refreshing in concept, crisp and entertaining.
Birju Maharaj had started directing dance dramas since 1955. But with his association with the Kathak Kendra began a spurt of creative activity that resulted in dance-dramas, dance compositions, choreography and music compositions as well. It is here that he began a journey that has established him in the field of Kathak as a creative, practical and innovative artiste.
As a choreographer he never stopped introducing new themes, each a masterpiece in itself. In the seventies, full length mythological and historical dance dramas were the norm. Some of them were Katha Raghunath Ki, Krishnayan, Roopmati Baajbahadur. Mughal themes depicted were Darbar-e-Salaami, Shaahi Mehfil, etc. In the 1980's some excellent abstract and purely rhythmic compositions were made –Laya Parikrama, Naad Gunjan, Ghunghru Sangeet, etc. The trend has continued. Humorous ones like Samachar Darpan, File Katha and sensitive ones like Anamya were appreciated for their unusual ideas. The list is endless as he spent every day creating something and giving shape to another new idea.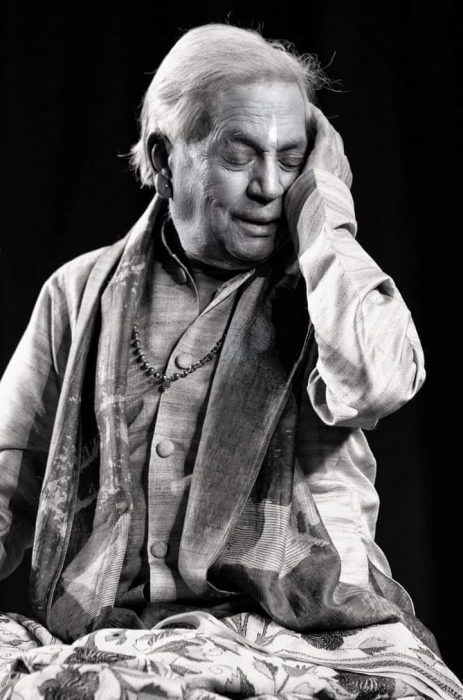 The choreography of the film Shatranj ke Khilari was done during this period. And a number of documentary films were produced, both on Kathak and on Birju Maharaj, during his days at the Kathak Kendra.  He also organized several seminars where various aspects of dance were discussed. In 2002 he choreographed the song Kaahe Chhed Mohe for Sanjay Leela Bhansali's Devdas. 
A genuinely dedicated teacher, Birju Maharaj always explained the technique in detail with the help of similes and metaphors until the student got the nuance right. The result was the uniformity of style in his disciples. Time was never a constraint, with the classes going on well past the stipulated time limit in order to achieve excellence. He has hundreds of disciples who are actively pursuing Kathak all over the world. 
He has left his stamp not only on his countless students, but on all Kathak dancers of this day. Till recently he continued his teaching in his own institute Kalashram in Delhi and also conducted workshops all across the globe.
Among the vast number of titles and awards received by him, mention may be made of the Sangeet Natak Akademi Award (1964), Padma Vibhushan (1986), Nritya Chudamani and Ustad Ala-ud-din Khan Puraskar (1986). He has received Honorary D.Litt. degrees from Banaras Hindu University, Rabindra Bharati University and Indira Kala Sangit Vishwavidyalaya.
Pandit Birju Maharaj was a living legend and an institution by himself.