Is the bicycle as a normal mode of transport in big urban metros across the country? This question arose from a letter to the editor of a Bengali daily a few days ago. The writer narrates an incident based on a brief report in the same paper. The writer, Satanjib Gupta, "Bicycle Mayor of Kolkata", BYCS, questions why did the police deflate the bicycle tyres of a cyclist as a punishment for breaking the lockdown rule. One of course needs to be pulled up for breaking the lockdown rule of not stepping out of the home. But which law allows the police to deflate the tyres of a bicycle? On the other hand, the writer points out how car drivers and owners are never punished in similar fashion. Why? 
He goes on to stress that even last year during the lockdown, cyclists in the city were victims of police atrocities because of the mode of transport they used. This goes on to underscore that perhaps the bicycle is attached with the "stigma" of being used by the class of people who cannot afford a car or taxi.
On the other hand, we learnt of the strange story of Mohammed Iqbal. He is a migrant labour working in Rajasthan's Bharatpur. He came from Bareilly in Uttar Pradesh and had to go home during the countrywide lockdown as he became jobless. He knew that walking down from Bharatpur to Bareilly which was 250 kilometers like many of his fellow migrants, was not possible for him because his physically challenged little son could not have walked that distance.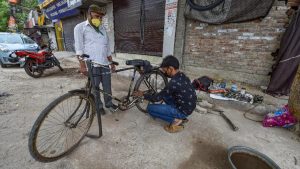 There was little hope for him to hop into a train or an inter-state bus because these systems of transport were not only disorganised but also cost money which he did not have. So, what did he do? On the border of Rajasthan and Uttar Pradesh, he stopped somewhere along Rara village and stole a bicycle to make the journey with his little son.  But Iqbal was drowned in guilt so he wrote a letter with his name and address for the owner of the house to pick up confessing that he was forced to steal under circumstances beyond his control. Each line of the letter penned in Hindi expresses the tragedy of his desperation to stoop down to thieving.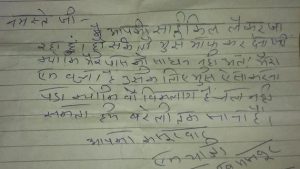 Translated, the letter says, "I am a migrant labour. Really helpless. I am taking your bicycle. Please forgive me if you can. I really had no alternative except taking your bicycle as the only mode of transport to go back home. I have to reach Bareilly which is 250 kms away. My physically challenged little son is with me." The owner of the house, Saheb Singh, found the letter while cleaning his courtyard the next morning. We do not know whether Mohammed Iqbal reached Bareilly safely with his little son. But last heard, he had sent the bicycle back to its rightful owner.
The bicycle, a non-motorized, inclusive transport is one of the most environment-friendly vehicles in the modern world. It supports the greening of the environment. It cuts across the rural and urban worlds. It cuts across social and economic classes and is a democratic mode of mobility in cities, towns, small towns and villages. It does not distinguish between and among age, sex or background. Gradually, the man on the street has realized its significance in the preservation of the environment, as a means to sustain physical fitness and strip oneself of sedentary modes of transport like the car, as means of reducing the level of fuel emission from cars, buses, and so on. It is also cheap on the pocket if one chooses to buy an ordinary bicycle. It can also become a style statement for those who love to spend on expensive cycling gear.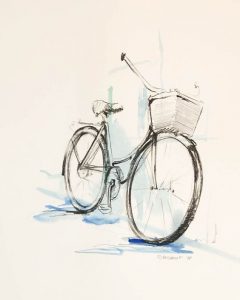 Bicycling evolved into a revolution in Kolkata when the Kolkata Traffic Police banned the use of cycles in roads and streets.  On 29th May, 2013, the Kolkata Traffic Police through a Gazette Notification passed an order banning cycles, hand carts, pull carts, tri-cycles, etc. from 174 major and minor streets in the city. The order was in violation of the National Urban Transport policy of 2006 that encourages non-motorized forms of transport. Millions of poor and working-class people in Kolkata are dependent on this transport to commute within the city.
On September 10, 2013, National Alliance of People's Movements, New Delhi, addressed a petition to the CM of West Bengal to have the ban withdrawn. The petition, signed by leading and notable crusaders of the environment, pointed out the benefits of non-motorized transport in general and cycling in particular. "Bicycles and non-motorized transport are socially inclusive, directly support livelihoods, inexpensive; take much less space, good for the environment and health, and least likely to cause jams and accidents," the petition underscored. A group of environmental activists in the city had already begun a revolution towards a movement in bicycling in the city.  In September 2013, 500 people – members, supporters and the public came out on the streets to urge the Kolkata Police to lift the blanket ban in 174 thoroughfares and initiate a dialogue to develop new infrastructure and solutions to support non-motorized transport. This campaign was initiated by SwitchON and supported by Ride 2 Breathe, Public Relations Society of India, PUBLIC, Greenpeace, WWF-India, and South Asian Forum for Environment.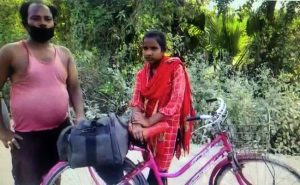 Vinay Jaju, an active co-founder of SwitchON says, "For a large number of people in the city, cycling is indispensable – from minor traders and suppliers to carpenters and masons, from the milk man and newspaper vendor to office clerks and courier delivery boys, the city depends on it. Nearly 2.5 million cycle trips are made every day! Such a ban is socially non-inclusive, inequitable and environmentally hazardous and is a suicide note for our beautiful city of joy. Hundreds will be forced to convert to motorized transport and push to the brink the over stretched infrastructure of the City." 
On 2nd October 2013, thousands of people from all walks of life took to Kolkata streets on Gandhi Jayanti in support of "Chakra Satyagraha". In an artistic representation of the ban, the activist showed the transformation of 'Gandhi ji Ke Teen Bandar' (the 3 monkeys of Gandhi ji) – People with feet, hands and mouths tied – symbolizing loss of mobility due to the ban on non-motorized transport, subsequent loss of livelihood and ability to feed themselves and their family.
On 25th March this year, just before the elections in the state, several cycle groups across the State came together and submitted a "Charter of Demands to promote Cycling" to all political parties contesting the 2021 Bengal elections to include in their assembly meeting and implementation plan the need for sustainable cycling and cycle safe infrastructure for the State. The demands include removal of cycle restrictions from Kolkata and immediately implement a cycle safe infrastructural plan for the state including Kolkata – for promoting a cost-efficient, safe and an eco-friendly urban commute in the city.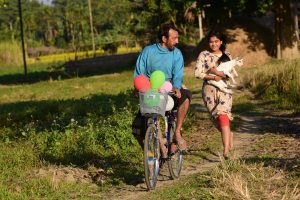 Satanjib Gupta, "Bicycle Mayor of Kolkata", BYCS said – "Cycling ban in Kolkata is hitting our domestic workers fraternity quite hard along with milkmen, newspaper delivery men, factory employees, delivery boys and other workers, who do not have the luxury of working from home or taking expensive transport every day to work resort to cycling or walking as the sole means of commute." Many use the bicycle as the sole means of commute to maintain socially distanced traveling in a COVID-19 affected world. Data from several available sources suggest that the bicycle market has boomed in India. Kolkata has a well-developed public transit system which makes it even more relevant for the city to adopt largescale cycling.
15-year-old Jyoti Kumari cycled from Delhi to Bihar with her injured father during the lockdown last year and became an international icon. A tenacious Jyoti asked her father to sit on the rear side carrier of her cycle and took him to his native place, covering 1200 km in seven days.
God on the Balcony, an Assamese film directed by Biswajeet Bora that won several awards, narrates the story of a middle-aged Khagen Das who has to trek around 14 kms to bring his dead wife back to the village through rough roads through forests along with his daughter by tying her dead body to his bicycle. This is based on a true story. So, how can and why should the bicycle be relegated to marginality just because it is relatively cheaper than a car or moped or a bike in a country where a large slice that lives below the poverty line, and the middle-class can keep themselves mobile only if they have a bicycle? 
Images courtesy: Shoma A. Chatterjee, Pinterest