Art, an act of Resistance, Renewal, Hope and Solidarity.  Three hundred and fifty-four women, survivors of violence, came together to imagine a World Free of Violence. They created and contributed their poetry, embroidery and artwork to design a tapestry that expressed their collective vision.  The mural, forty-one feet by eight feet, is the centerpiece of an exhibition at the Indian Museum, Kolkata, inaugurated on the 16th of April and on display till the 30th of April.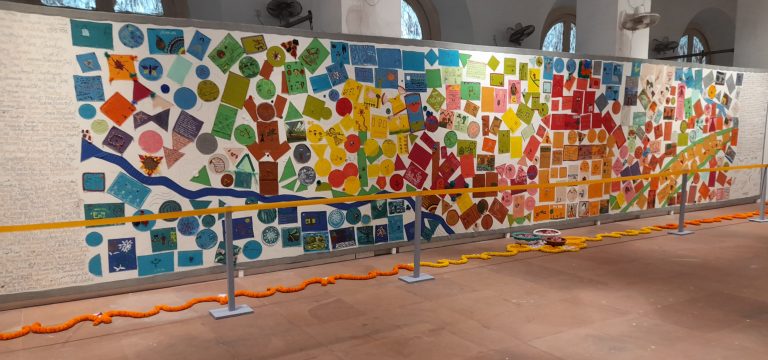 Swayam, a feminist organization in Kolkata now in its 25th year, dedicated to challenging discrimination, advancing women's rights and to ending violence against women, has harnessed the radical potential of art.  Over the last 5 years it has brought women with whom they work, to create spectacular art installations in public spaces across the city furthering conversations and dialogues about gender equality.  These include the dramatic show, Voices of Courage and Sorrow: Women in the Dark Speak Out at the Victoria Memorial.  And Still I Dream, a striking and colorful mural of women's professional aspirations that cover one wall of Swayam's three floor building on Deodar Street.  A significant section of a wall of La Martiniere Girls School on AJC Bose Road, a major thoroughfare, is painted by the women survivors addressing issues of Women's Safety in Public spaces. 
I was fortunate enough to be intimately involved in this current installation and was stirred by the way the project was planned and executed over a two-month period from February to mid-April 2022.  Women, locked up in their homes for over two years due to the Covid pandemic, were tentatively stepping out in late February. Though the lockdown messaging was "stay safe, stay home" was to stop the spread of violence, led to an increase in the scale and intensity of violence against women in their homes.  It severely limited the ability of women and girls to escape violence, access services and reach out to their support networks of family, friends and neighbors.  The National Commission of Women reported a two and a half times increase in domestic violence registered between February 27th and May 31st, 2020.  Though Swayam reached out and responded to survivors through phone and internet, the toll on women survivors was enormous.
It was in this context that Swayam organized six interactive workshops of about fifty women each for women they work with, from urban and peri-urban communities, could come together in solidarity to express themselves, feel renewed and empowered, in a nurturing environment. Over the course of a day, the women were led through dance exercises, music, and reflection so they could leave their daily worries behind to start imagining a new world.  A world without fear where they had control over their lives. After a joyous time together, the women were served lunch and, in the afternoon, sessions were asked to put their thoughts down on a piece of cloth, using poetry, embroidery or painting.  Paints, pencils, colorful buttons, tinsel, yarn, thread and sewing materials were laid out for them.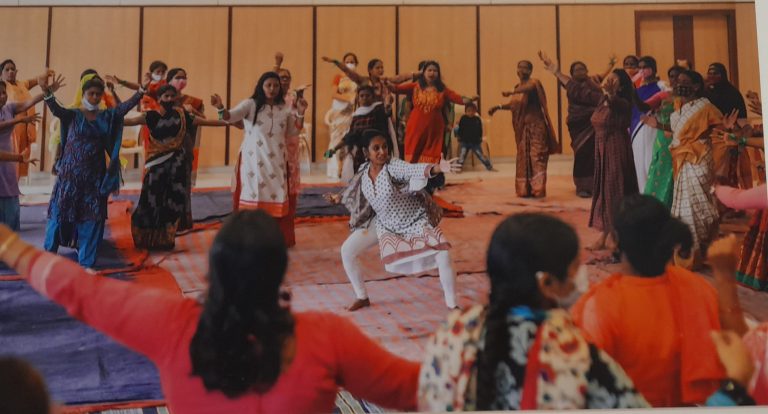 The women could select circular, square, triangular or rectangular pieces in spring hues and, if they wished, could alter the shapes as they chose to express themselves.  Engaging in this art project proved therapeutic, reassuring and liberating.  At the end of each workshop their art works were collected, and each woman's work documented.  
Many of the women wrote or drew images of breaking free, flying, dancing, having a secure and loving home and partner, surrounded by Nature and all its beauty.  
 "…I will laugh, I will run.
I will realise my dreams,
Just open the shackles a bit,
And you will find
Your heart also dreams
Along with mine."
– (Shyantika Boral)
"…We will sing new songs
In that sky you will usher in
A new Eid moon,
Waving in a tide to wash away all unpleasant thoughts
I will break open all floodgates
There is where you will find me
In this new dawn….."
– (Suparna Mukherjee Das)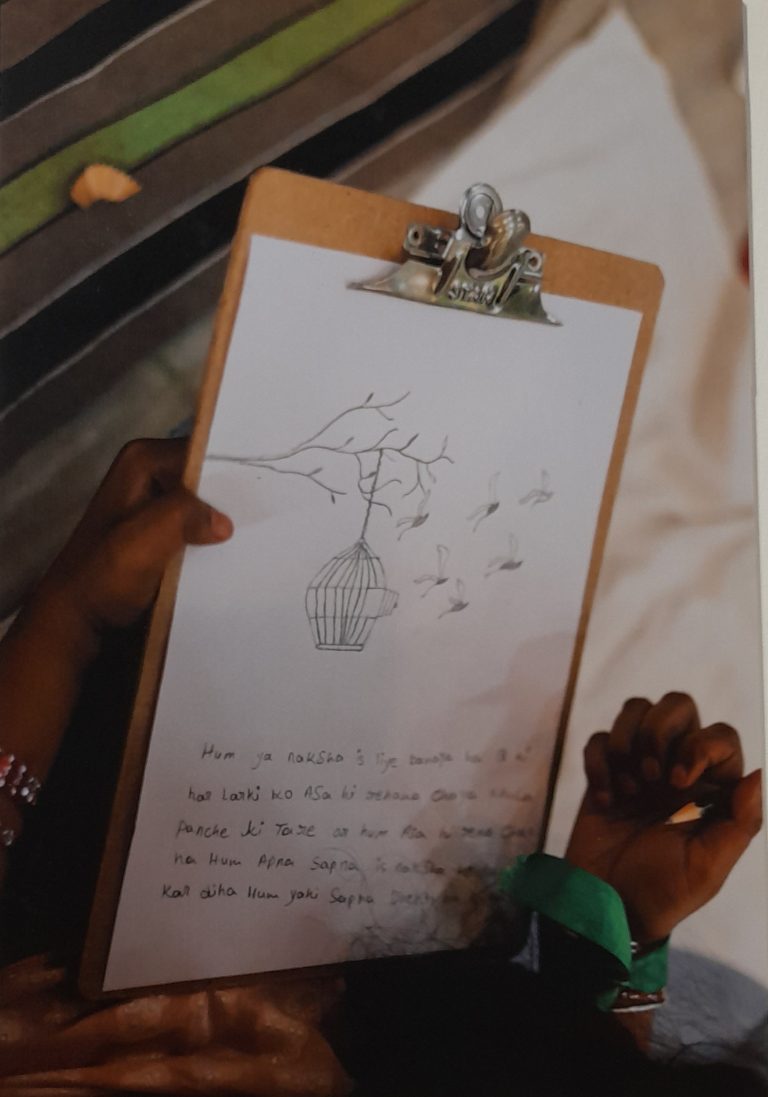 A 50-foot piece of off-white thick fabric was the base upon which the works were arranged to form a composition.  A group of us, including Swayam staff, a vocational arts trainer and myself, sought to arrange the pieces to express their collective dreams. True to their spirit we arranged the patches to form a landscape –  a flowing river, a hillock with flowers and trees of vibrant hues, a blue sky, a home and a path signifying a way forward.  Once the patches were arranged the women connected the patches with kantha stitches to bring the enormous work together.  Each woman's name was inscribed on 3-foot panels on either side, in this way  each woman was made visible and her contribution honored.  To represent the diversity of women artists, the names were written in English, Hindi, Bengali and Urdu letters.
The tapestry was mounted at the Indian Museum along with photographs of the process through which the artwork was created. Poems and drawings that the women made were featured in several panels.  A film about the making of the tapestry and the dreams it embodied was shown and is available for viewing throughout the show.  We hope the film will be widely seen and be a starting point for more discussions among women and with broader communities.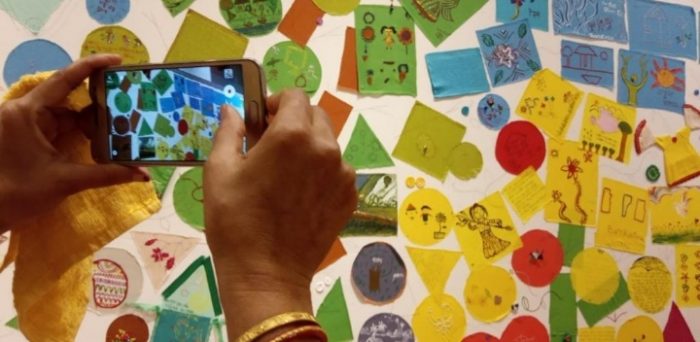 All the women artists attended the formal opening in the grand courtyard of the Museum.  They were delighted to see their work in such a prestigious venue, and excitedly looked for their patch and their name!  The exhibition proved to be  as exhilarating and reaffirming as was the process of creation.  The woman, from the very start to the finish, were the beating heart of this project.
Journalists and media outlets were keen to speak to the women, as they were to share their stories.  By the second day there were articles and photos in both the English and Bengali press.  We expect the tapestry to generate more coverage and discussion as it travels to many other states in India.  Swayam has certainly catapulted women's imaginings and aspirations into the public domain and is sparking public conversations with women survivors about issues that concern them as well as us – safety, successful careers, a future free from all forms of violence.   
Images courtesy: Swayam & Jael Silliman.