Who hasn't read an Agatha Christie novel in his or her teens? Who hasn't marvelled at the genius of this queen of crime fiction? The answer: Almost everyone has. My house boasts of a stack of books in almost every room. In almost all of them, except the toilet of course and the kitchen, there is bound to be an Agatha Christie novel. Both my mother and I are voracious readers of Christie. The novel I like best, is And There Were None.  But we must realize that it had not been at all easy for a female writer to gain the popularity which she had had, in her time. Her first novel had been The Mysterious Affair at Styles, after which there had been no looking back. Here she had created the Belgian detective, Hercule Poirot who had an egg-shaped head and a carefully-grown and groomed moustache. His 'little grey cells' may find an appropriate successor in Satyajit Ray's creation, Feluda's 'Magajastra'. On the occasion of International Women's Day, who else can be a better icon for an aspiring writer like my humble self than Christie herself?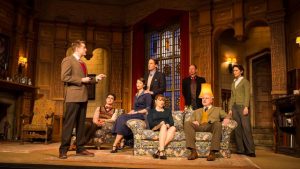 When Sir Arthur Conan Doyle had written the final episode of the adventures of his sleuth, Sherlock Holmes, where he had described in detail the latter's fatal encounter with his nemesis, Professor Moriarty at the Niagara Falls, he was faced with huge appeals from his readers to bring Holmes back to life. So there he was in The Return of Sherlock Holmes. 221B, Baker Street is a favourite haunt of tourists who visit London, given any time of the year. Agatha Christie's popularity is almost akin to that of Doyle. Whereas Doyle had created a single male detective, Christie, on the other hand, created both Hercule Poirot and Miss Jane Marple, both unique in their respective 'methods of deduction'. 
Agatha Christie had had a very chequered life. She married twice, the last being to archaeologist Max Mallowan, with whom she had travelled across various corners of the globe. She had borne witness to two World Wars and in her novels we get to see an England, long lost to time and history. Her novels had been turned to theatrical productions and to movies. Alfred Hitchcock had made the movie, The Lady Vanishes, based on her story. The hugely popular novel, The Murder On The Orient Express, was also cinematised during her lifetime. Till today Agatha Christie remains the highest selling author of fiction, according to popularity graphs.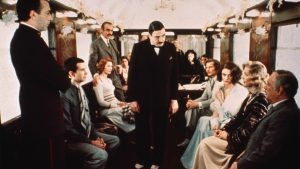 In her My Autobiography, which was published some years after she died, Agatha Christie begins with these words: "One of the luckiest things that can happen to you in life is to have a happy childhood. I had a very happy childhood. I had a home and a garden that I loved; a wise and patient Nanny; as father and mother two people who loved each other dearly and made a success of their marriage and of parenthood."
Christie's zest for life becomes evident as one sits down to ponder over her novels one more time. Despite the fact that she wrote about murders by nefarious and devious means, ultimately it is the spirit of goodwill which reigns at the end of every novel. The means almost always lead us to a peripatetic end. Aren't all detective novels aspire to establish this fact with precision and conclusiveness? So what makes Agatha Christie so endearing to the reading public? She delves into the criminal mind and through her pen, establishes the resolution of conflicts between the sane and the pseudo-sane. 
Her novel, The Murder of Roger Ackroyd, was the first of her novels to be successfully dramatised on stage which she had written in 1926. By this time, she had been averaging to about a book a year and had established a relationship with her publisher Collins, one which was to last for over fifty years and around seventy odd books. The Mousetrap, her most successful play, remains till today the most popular play and is still getting staged by theatrical production houses across the world.  
Agatha Christie is the queen of crime fiction. I don't think her legacy can ever be carried forward by a writer belonging to our generation. Conan Doyle and Christie would forever remain as the touchstones for whoever aspires to write authentic detective fiction. Their creations have died with them. Why should we drag these characters from the burial ground? They were totems of the period they belonged to. Bringing them back from the dead would be akin to the legend of Rip Van Winkle. They would realise that they have become out of sync with the times.