You are walking down a sleepy neighbourhood lane. Suddenly a sonorous sarod music comes floating out of a window. You can't move a limb. You're glued to the spot. The music has engulfed you. The music has made a hostage out of you. If such a thing ever happens, you can be sure the musician is none other than Ustad Ali Akbar Khan whose 99th birth anniversary is an opportune moment to discuss why he was one of the brightest stars of hindustani classical music. 
It is indeed a great honor and privilege for me to be associated with Khansaab's family from a very young age. I saw Baba (Ustad Ali Akbar Khan) from many angles and situations— as a musician, as a teacher, a guide and even as an ordinary family man. I have had the opportunity to be with him on stage with the Tanpura. He was not only my musical Guru, he was my idol. His music and teachings was my lifeline. He taught me how to stay calm and positive even during the most tumultuous of times. Under the most adverse conditions, his music was the only support on which I could lean; which soothed me and helped me tackle adversities and move on with my life. It is very unfortunate that I could not serve him during his last days. I was then far from California. This will remain one of the unfulfilled desires in my life.
Baba was a genius of the highest order. He literally talked through his sarod. His father, Ustad Allauddin Khan, who is considered to be the Guru of Indian instrumental music, was a strict disciplinarian. He made Baba do 'Riyaz' for 15-18 hours every day, for more than 15 years! Baba was not allowed to talk much. So, he learned to express himself through his instrument. As he matured as a musician, his music became like a flowing river which crisscrossed all segments of life, carrying all sentiments and emotions with it.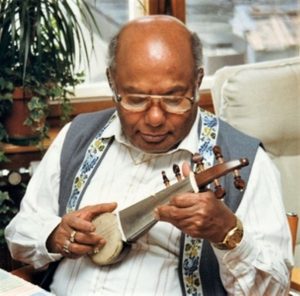 Ustad Allauddin Khan was the court musician of Maharaja of Maihar in Madhya Pradesh. Baba spent his childhood in Maihar. It was in Maihar, that Pandit Ravi Shankar joined him as a disciple of Allauddin Khan. Allauddin Khan used to teach them together, along with Annapurna Devi, Allauddin Khan's daughter and later Ravi Shankar's wife. Practising together at the feet of their Guru gave rise to the concept of 'Jugalbandi'. Later, Ali Akbar Khan and Ravi Shankar started playing together publicly, and their 'Jugalbandi' with Ustad Alla Rakha became legendary. But that's a different story altogether.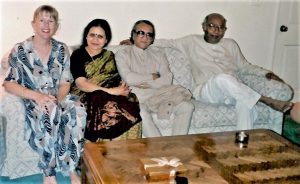 When Baba was in his 20's, he became the court musician of the Maharaja of Jodhpur in Rajasthan. Maharaja played an important role in Baba's development. It was in Jodhpur that Baba was conferred the title of 'Ustad'. Baba used to tell us many stories about his Jodhpur days. Maharaja was extremely fond of him and Baba often had to play all night so that Maharaja could sleep peacefully. But Maharaja died from a plane crash. His untimely death was a big blow and Baba left Jodhpur. He became a radio staff artist in Lucknow. Later, moved to Bombay. He came to the USA in 1955 at the invitation of great Violinist Yehudi Menuhin. 
To me, Baba was equivalent to the 'Sound of sarod'. He had this unique ability to express all kinds of moods very distinctly. His music was so deep, even after listening to the same performance over and over again, one can't fully gauge its depth. Baba, like Ustad Abdul Karim Khan, could make even an ordinary listener cry. Someone who did not have any understanding of the Raga, or Tala or the Hindustani Classical music system.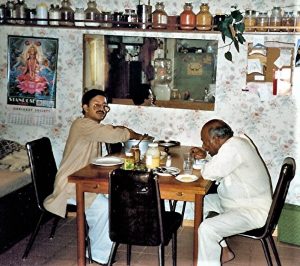 He produced a sound which was haunting, appealing and unworldly – it did not come out of his hands, it came from his soul. In the early 70's, when I was 5-6 years old, I went to an all night concert at Mahajati Sadan in Kolkata. Baba was the concluding artist. He began his recital at 3:30 am with Raga Kaushi Bhairav. That music was so intense and the sound was so haunting, and Baba was doing some incredible stuff, I felt like I was all alone in a ruined palace – I could not stop crying. My dad had to bring me back home.
The greatest gift Baba had was his ability to compose instantly. And the thought process behind his compositions was very unconventional. That's where his genius lied. The way he applied the notes, sometimes so subtle, but had such a tremendous impact on the overall portrayal of the Raga that the audience became awestruck. In 1982 at Dove Lane Music Conference, his last recital was a rendition of Raga Mishra Bhairavi. He was about to finish an 'Upaj', and was holding on to 'komal rekhab', just about to return to 'sharaj'. But he stayed on that 'komal rekhab' forever, and before returning to 'Sharaj', used a slight 'andolan' (subtle movement) to barely touch one of the 'shrutis' (microtones) before returning to Sharaj. This created so much pathos, sadness and the feeling of loneliness that we, the audience, could not hold our tears.
While learning from him at his school in California, I experienced this strange feeling several times. Once he was teaching us a slow composition in Teentaal in Raga Zilla Kafi. He was playing the 'gat' over and over again so that we could learn it properly. All of a sudden, I could not play anymore, there was this immense sadness which engulfed me completely. Then I realized, it was not just me but everybody else in the class. All the students had put down their instruments and had tears in their eyes. The only sound was the sound of Baba's weeping sarod, we could see Raga Zilla Kafi right in front of us. But, Baba was only playing the slow 'gat', over and over again, and nothing else. We did not understand how he was extracting so much sentiment and emotion without adding any variation to the gat. 
Baba created many ragas. Some of them are Chandranandan, Hindol-Hem, Medhabi, Gauri Manjari, Prabhakali, Bhairavi Bhatiyar, Madhu-Malati, Alamgiri, Jogiya Kalengra, Jogiya Malhar, Alam Bhairav, Megh Sarang, Chandradhani, and many more. He developed the Rajasthani folk tune 'Mand' and gave it the status of a full-fledged Raga. Probably the most famous of his creations is Chandranandan. It is a late-night Raga. During a concert in the USA in the mid-70s, he played this Raga and explained its mood as "Atmosphere of the Universe on a full moon night". Raga Shree, Basant Mukhari, Desh Malhar, Ramdasi Malhar, Yaman Kalyan, Darbari Kanhra, Bageshree Kanhra, Medhabi – some of his renderings in these Raga will remain as the most precious gems in Indian Classical Music 
All the students had put down their instruments and had tears in their eyes. The only sound was the sound of Baba's weeping sarod, we could see Raga Zilla Kafi right in front of us.
Pandit Nikhil Banerjee, although started his initial training from Ustad Allauddin Khan, later became Baba's disciple. Smt. Sharan Rani (sarod), Sri Brij Bhushan Kabra (Guitar), Sri Damodar Lal Kabra (sarod), Sri Brij Narayan (sarod), G.S Sachdev (Flute) were some of his famous students. Late Sri Buddhadev Dasgupta, the very well-known Bengali sarod player, although never formally became Baba's student, was a great admirer and follower of his. The great music composer Sri Sachin Dev Barman sent his son Rahul Dev to Baba to learn music for a while. If one recalls the scene from the movie 'Sholay' where Gabbar Singh and his men killed A.K Hangal's son while he was going away from his village, the Sarangi was playing a version of Bhairavi in the background. The Sarangi was literally crying and Baba's name was written all over that particular part of music. Famous Bengali singer Sri Hemant Mukherjee also took lessons from Baba. Well known vocalist Pandit Jasraj, always went to California and took lessons from Baba whenever he was in the US.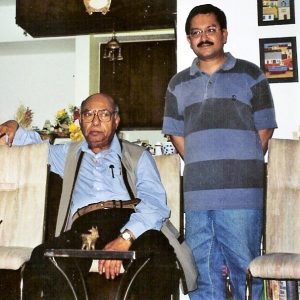 Baba was a great admirer of Ustad Vilayat Khan and Ustad Amir Khan. When Baba was in Jodhpur, Vilayat Khan Saab stayed with him for a while and they did their 'Riyaz' together. Baba loved Chivas Regal. After his concerts, he would relax with his Chivas and open up about his childhood, his rigorous training under his father, his association with Ravi Shankar and other world-famous artists. Sometimes he would talk about his sister Annapurna Devi. Once Allauddin Khan taught a 'gat' to Baba and asked him to keep practicing the 'gat' while he went to the market. When Allauddin Khan was teaching, Annapurna Devi was sitting in the next room, listening to this 'gat'. Soon after Allauddin Khan left, Baba forgot part of the 'gat' and was trying to figure out the correct version. Annapurna Devi came out from the adjacent room, sang the 'gat' and showed Baba the correct style. While she was doing so, Allauddin Khan came back from the market, was taken aback at Annapurna Devi's talent and from that very day, started teaching her the surbahar. There are some sublime renditions in surbahar by Annapurna Devi which are now available commercially.
Baba was a simple man. He was a different person when he was on stage. But otherwise, he was the most loving and affectionate fatherly figure who loved all his students like his own children. He also loved to drive. It was probably in the early 80s when Baba had a Buick that I accompanied him to Santa Cruz. We rode from San Anselmo, he drove along the famous highway 3, the highway bisecting the ocean. It was absolutely picturesque. While we drove, we listened to the recording of his memorable rendition of Basant Mukhari Jogiya. He considered the 'Alap' of that Raga as one of his best. The slow gat was in Jhaptaal and it was beautiful. Swapan da (Pandit Swapan Choudhury) accompanied him on the tabla. 
Baba enjoyed Mughlai food. He often used to go to 'Shiraz' restaurant in Kolkata to try out their Mutton Biryani. When Vilayat Khan went to California, both spent lots of time cooking and experimenting with food. Baba taught me this particular fish curry which I love and cook now and then. It's like this – cut Rohu fish in regular Bengali style. Coat the pieces with salt and turmeric, shallow fry them, then keep them aside. Heat up oil, add 'panch phoran' (Bengali five spice), and then add dried red chili. When the chilies turn black, add small pieces of tomato in the oil. Once the tomatoes turn into thick pulp, put turmeric and paprika powder (can use red chili powder if your stomach can handle).  When the gravy is done, add a tablespoon of plain yogurt. Add those previously fried pieces of fish in the gravy. Add water and salt to taste. Add cilantro leaves, bring the gravy to a boil, cover up and turn the heat off. Pure magic! 
While we drove, we listened to the recording of his memorable rendition of Basant Mukhari Jogiya. He considered the 'Alap' of that Raga as one of his best. The slow gat was in Jhaptaal and it was beautiful. Swapan da (Pandit Swapan Choudhury) accompanied him on the tabla. 
Baba passed away on 18 June 2009. He was teaching his students at his home in San Anselmo, California. He was unwell, could not even sit properly. He stayed half reclined on a sofa and was singing for his senior students. All of a sudden his health deteriorated drastically. The students carried him to his bed. But Baba said, "Please don't stop singing. Sing Raga Durga." They started singing Raga Durga. As they sang, Baba departed for his heavenly abode.     
Ustad Ali Akbar Khan was the 'Brahma' of Indian Classical Music. When he played, the music gods came down from heaven and visited us through his sarod. For us, who had grown up listening to his music, life changed with Baba's passing away. I rarely listen to music anymore, not because there are any shortages of talent, but there is no 'Baba'. That sound of sarod is gone. That distinct realization of shades of sentiments, the feeling of being close to God, the feel of joy, happiness, tranquility, and the desire to love and be loved – all gone. The brightest star of Indian classical music has left us, and with him, the enchanting 'sound of sarod' has left us too.
All images are from the author's personal collection.