There was a time when knitting was considered a feminine thing to do. Why just knitting! Any kind of needlework was and is still considered one of those things that are typically associated with women in India and all over the world! Can you think of any Victorian era novel where the women aren't sewing or knitting in their parlours, sitting next to the fireplace while trying to make decent conversation? When the weather is down, when the night is lonely, when the more cerebral brothers in the room are reading books, the women always seem to be knitting or doing some kind of embroidery or crochet work! Do you recall any recent film, English or otherwise, where you have actually seen a man fiddling with knitting needles or wool simply because he has nothing else to keep himself occupied! Chances are few! 
But then came British diver Tom Daley, who broke every stereotype under the sun that was ever associated with knitting! Within days he became an internet sensation! This genius of a swimmer was actually spotted at Tokyo Olympics 2020 knitting one cardigan after another while he watched others make dives or waited his turn at the Tokyo Aquatics Centre.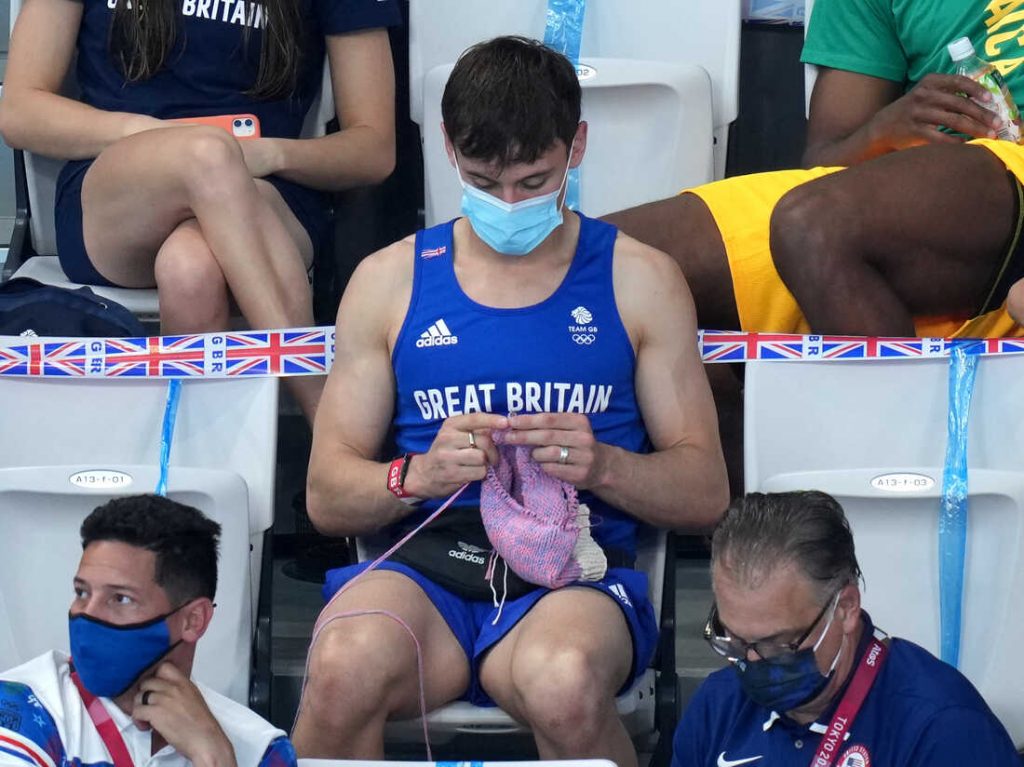 "Oh this? Just Olympic champ @TomDaley1994 knitting in the stands while watching the diving," reads the caption shared by the official Instagram handle of Olympics. The post garnered over 2 lakh likes and thousands of comments. A netizen also shared a clip of the gold medalist knitting while sitting in the audience.
Daley actually has an Instagram handle called @madewithlovebytomdaley where he has been sharing his creativity with wool since September 2020. Not only does he do crochet but also gives tutorials via Instagram about certain designs that might otherwise seem complicated to laymen! He knits kids-wear, pullovers, cushion covers and even sofa covers! No wonder the internet cannot stop raving about this miracle man in a swimsuit at the Tokyo Olympics! 
But why would an athlete of his stature take up such a hobby! Before we jump to conclusions let's just evaluate what mental health benefits knitting could bring to an athlete of Daley's stature. 
Mental health professional Preetha Guha Roy said, "Several international surveys have shown increasing evidence that engaging in creative and meaningful occupation can impact positively on health and wellbeing. An online survey conducted through an internet knitting site collected responses from 3,545 knitters worldwide. It was shown that knitting in a group led to a sharp rise in perceived happiness, improved social contact and communication with others. It was concluded that knitting has significant psychological and social benefits, which can contribute to wellbeing and quality of life. As a skilled and creative occupation, it has therapeutic potential, irrespective of gender."
Apparently, Tom Daley's coach had asked him to find a means to recover between dives. That's how he took up crochet.
It is believed by mental health professionals all across the world that knitting could lower blood pressure, reduce depression and tone down anxiety issues to a great level. With prolonged exposure knitting can also slow down the onset of dementia, especially with those that have it running in the family and cause healthy distraction from chronic pain that refuses to subside. It could also bring in a renewed sense of well-being and reduces negativity that comes with a deep feeling of loneliness and isolation. But what it could do best is offer an escape for the mind from immediate elements causing stress and anxiety. Not only does it have a calming effect on your mind and makes you feel like you are doing something productive and worth your while! 
The concept of male knitters is not, however, entirely alien among people living in cold countries, hill stations or with those in the business of commercial knitting! If you look up #maleknitters on Instagram you will bump into more than 12.2 K posts with pictures of men knitting away to glory across the world. No wonder where literature and films fail, the internet more than makes up for it!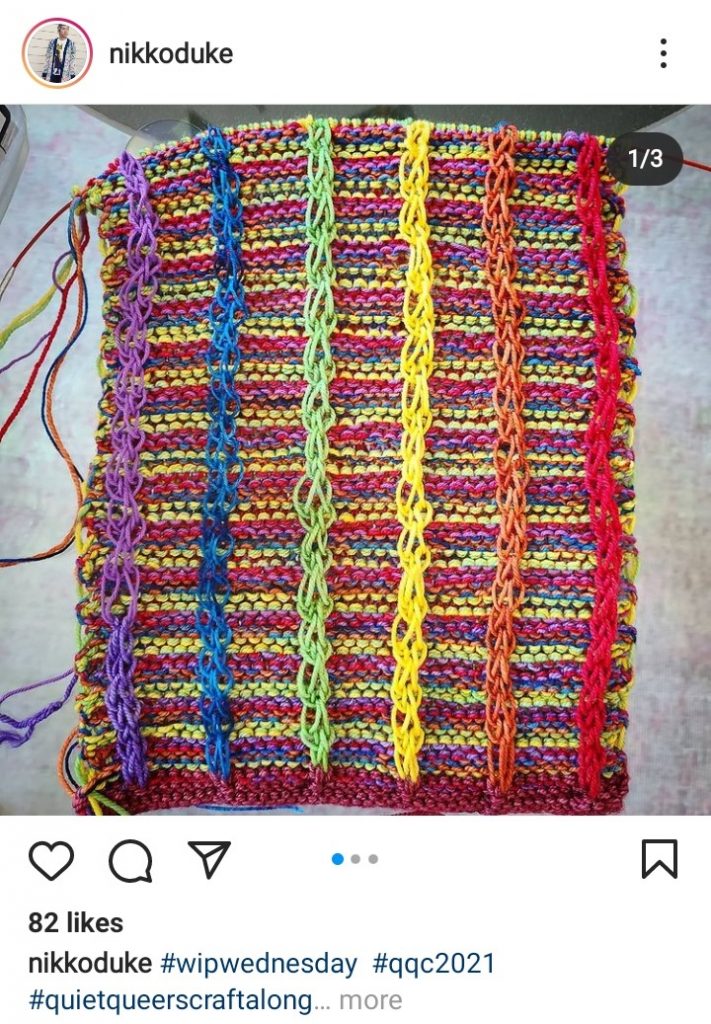 For example there is @bookshelf.knits who is a self-proclaimed Chemistry PhD student by day and a serial male knitter and lover of books by night from Bath, Somerset! To set the records straight, he goes on to specify that you don't have to give up one hobby, to be good at or better qualified at another. Then there is @Project Knitwell that offers knitting as a wellness tool at hospitals and communities. Also look up @nikkoduke, a dedicated male knitwear and crochet designer from Tennessee and @knitwitsandyarns (Brenden Girak) from Australia. Several of these knitters are even selling their wares on Etsy, Ravelry and the likes. Not just the common man, male celebrities in Hollywood have also taken to knitting at some point or the other. Some celeb male knitters in Hollywood include Ryan Gosling, David Arquette, Christopher Walken, Stephen West, Nicholas Hoult, Paul Rudd and Victor Baxter!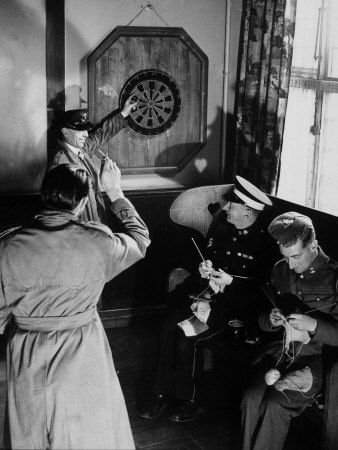 Many have called Tom Daley the ultimate metro-sexual man! Others have hailed him as the next generation queer icon to look out for! In a way he could also be none of the above! That he is a world class athlete, sensitive to personal and emotional intelligence is a given. Yet, at 27 Daley is certainly the kind of youth icon that one would look up to not only because of the medals he got for his country but also as someone who broke stereotypes at every step. He could easily be a sweetheart with the feminists and the queer across the world and still be that regular guy on the street who would stand by his choices and never falter to express them in public! 
Images courtesy: Instagram, Pinterest