31st October is America's Halloween when ghosts and spirits are celebrated in a light-hearted manner and on the 2nd of November, much of the Christian world observes All Souls' Day. They go the graves of departed family members, to lay flowers on their tombs and light candles to brighten these desolate cemeteries. The next day happens to be our Bhoot Chaturdashi.  Can we see a pattern? 
During this period beginning from Pitri Tarpan during Mahalaya or in Diwali (in north India), the line between the living and dead is the thinnest, as spirits are believed to come back to their successors in the world of living. The Markandeya Purana says (XXXII, 38) "when the pitris are delighted with sraddhas, they bestow long life, wisdom, wealth, knowledge, svarga, final emancipation from existence, and joys and sovereignty".
European scholars say that the Day of the Dead occurs after the last harvest, when the barren earth is thought to give passage to the souls lying beneath it. More than two thousand years ago, the Romans observed Lemuria with public festivals of sacrifices to propitiate evil spirits of the dead.
Celtic civilisations in Europe still hold on to several pre-Christian customs and their festival of Samhain comes at the end of October. Like the Pitri Paksha in Bengali culture, it is a time to remember their ancestors who return home to garner respect and food from their descendants.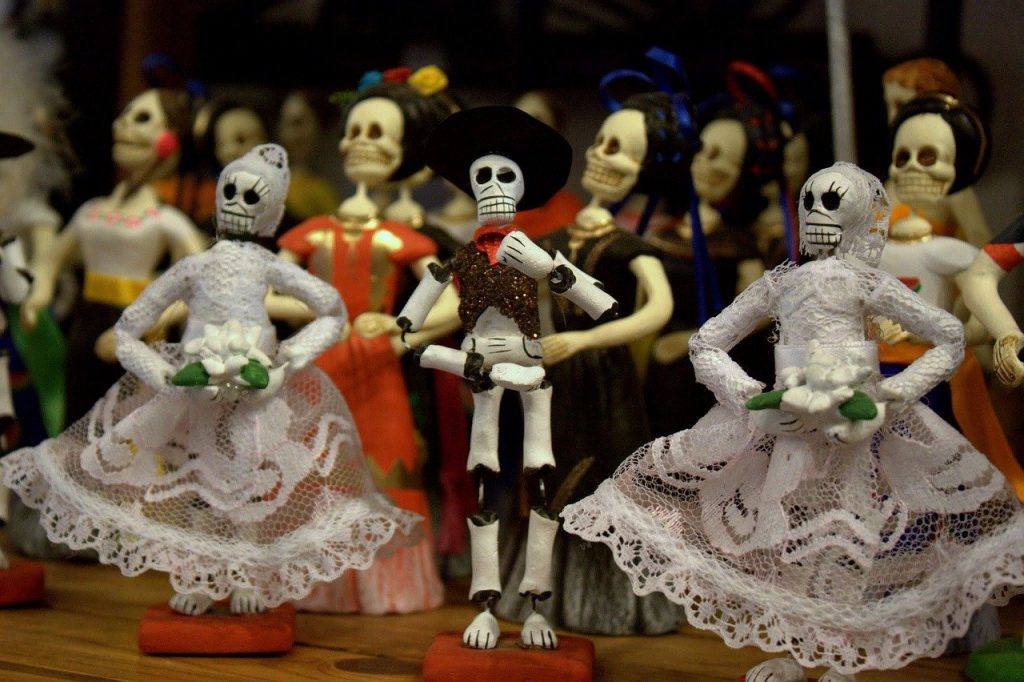 The Scots and the Irish believed that spirits or mischievous fairies needed to be propitiated to ensure that the people and their livestock survived the winter. A strange part of the festival involved people going door-to-door in costumes or in disguise, often reciting verses in exchange for food. 
This became the "Trick or Treat" ultimatum that American kids give to their elders during Halloween, as they knock at each doorstep in the neighbourhood, to be rewarded with cash, candy and gifts. 40 thousand crore rupees are spent each year. Americans celebrate Halloween with hollow pumpkins where the eyes and lips are cut out in crazy shapes.
In Mexico, the 2nd of November is celebrated as El Dia de los Muertos, the Day of the Dead, that combines Christianity with the ancient Aztec worship of death. Mexicans have a lot of fun to lighten their mood and they bring out colourful processions with people dressed up as skeletons, ghosts and spirits. To make sure that the ghosts who follow them home are not angry or hungry, they leave bottles of Tequila liquor, baskets of food and sweets outside the houses, sometimes with pillows and blankets for them to rest in their long journey. 
Brazil declares a public holiday called Finados, Day of the Dead, on the 2nd November and their very grand rituals combine cultural contributions of Africans and also the conquered indigenous people. People of Portugal, Spain and Latin America make special offerings to the dead called "ofrendas" and they place selected flowers on their graves.    
 The indigenous people of the Andes in South America venerate the tombs of their ancestors but they also preserve their skulls at home for such rituals. On the 9th of November, these skulls are dressed up with clothes and cigarettes are inserted between their clenched teeth and alcohol is offered to them. 
Kali Puja harps repeatedly on the dead and cremation grounds and on the preceding Bhoot Chaturdashi, Bengalis placed 14 lamps in every possible corner of their houses to drive away spirits. They also ate 14 leafy vegetables at both their meals as an antidote against bhoots. 
Even Bhai Phota is meant to ward off Yama-raj. In Kartik, we also have a ritual of hoisting lights on top of tall poles on our terraces known as the "akash pradeep", to guide the spirits in sky to kindly return to Yama-lok. In many parts of Uttar Pradesh, the festival of Kartik Poornima is celebrated as Dev Dipawali and Benares has a special custom of lighting thousands of lamps on the ghats, in mid November.
Buddhists and Taoists in China, Singapore and elsewhere who spend August as the month of Hungry Ghosts, when millions of lamps are lit to float in water bodies. Japan also has its picturesque Obon festival of lamps in August, where food is dedicated for dead relations. Many other civilisations also observe festivals for their departed ancestors or to propitiate ghosts — around this time. Strange, isn't it?