Gita Balakrishnan, Kolkata based architect, embarks on a 1700-km walk from Kolkata to New Delhi to spread awareness on architecture. On International Women's Day Gita is passing through Palamu in Jharkhand, visiting the Palamu Fort built in the Mughal style of architecture. 
Explaining to school students the difference between the lavish sets of 'Jodha Akbar' and the minimalistic designs of the legendary B V Doshi, dancing to madal beats in a Bankura village, discussing common building practices with construction workers in Purulia. Over the past four weeks, a fifty-something lady has been on the go. Her goal is to spread awareness on architecture and how it can make our lives better.
Meet Kolkata-born architect Gita Balakrishnan, an alumna of School of Planning and Architecture, New Delhi and Carnegie Mellon University, US. Gita has embarked on her life's mission. A 1700-km walk from Kolkata to New Delhi, spanning over two months, across West Bengal, Jharkhand, Madhya Pradesh, Uttar Pradesh, Rajasthan, all for the cause of architecture. The walk began on February 13 and is likely to end on April 18. 
As International Women's Day draws near, in a way, the walk is also a celebration of womanhood and family values. While Gita's husband, Balakrishnan Subramanian, a senior corporate executive, accompanied her in the first leg of the journey, Gita's 83-year-old mother is expected to fly down from Bengaluru and receive her at the finishing line near Rashtrapati Bhavan.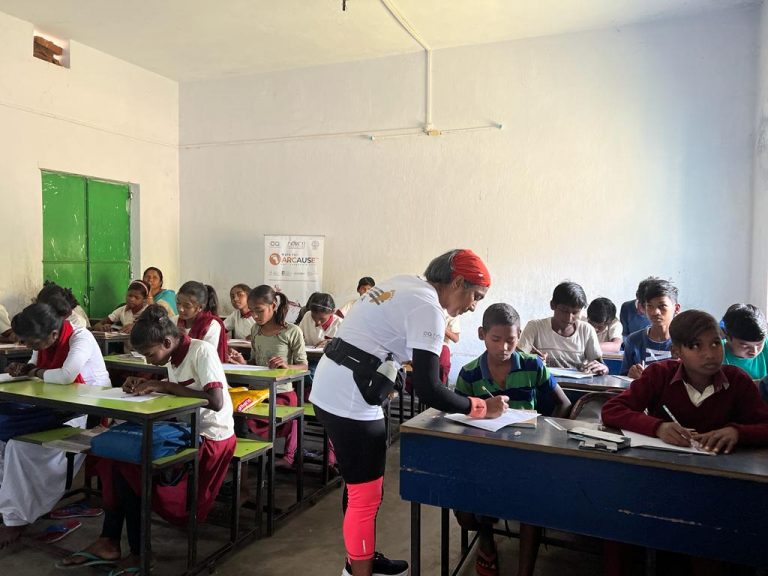 Conceptualised by Ethos Foundation, the walk is being supported by The Indian Institute of Architects, Council of Architecture, Intach, Boston Architectural College and  National Association of Students of Architecture. Corporate biggies like  the Tatas, ITC, Mahindra and TVS  have chipped in. During the journey, Gita also plans to raise funds to finance the study of budding architecture students.
In a tele-conversation, Gita said: "My goal is to ensure how good design can enrich lives and understand issues that need good design solutions.  The idea crossed my mind five years ago and then gradually grew on me. Finally, it took shape in November, 2021. I have lined up an exciting two-and-a-half months journey, during which I hope to carry design conversations with the common man, students, construction workers, women's groups, NGOs and experts in villages, towns and cities."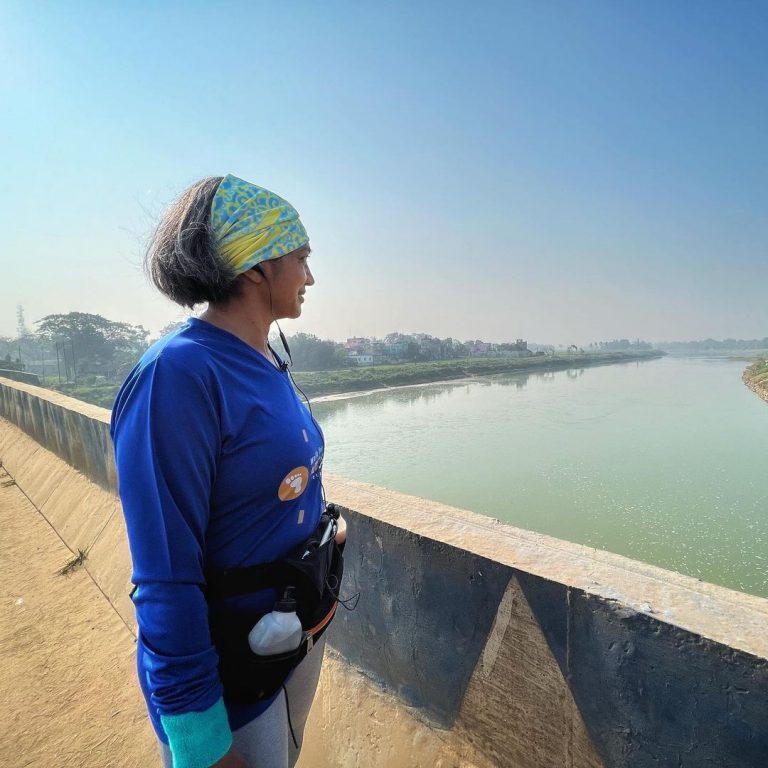 Gita always felt that most architects, while pursuing busy careers, have missed the bigger picture, that is how architecture changes people's lives. To achieve this, she set up in 2002, Ethos, a common platform for architecture students and experts plying their trade. 
Gita's current project, 'Walk for Arcause', is a way to make her personal and professional quests meet. In Gita's words, "I thought it's important to connect with a universe alien to me in this once-in-a-lifetime journey." 
Alien, it has been in many ways. Barely 50-odd km from Kolkata, at Antpur in Hooghly, Gita came across Radhagobinda Mandir, the oldest brick temple in West Bengal.  A few kilometres ahead, she gave a presentation on architecture as a career to students in an Arambagh school. In Madhabpur village, Bankura, before an interaction with women from an NGO, Gita was treated to a cultural performance by the local artistes. In a gesture of genuine hospitality, they washed her feet with water on a thali and then wiped them with a gamchha.  Later, it was back to basics with a 'Chai pe Charcha' session with construction workers in Bankura. There Gita underlined the need for hand-rails and ramp in houses to help children and the elderly.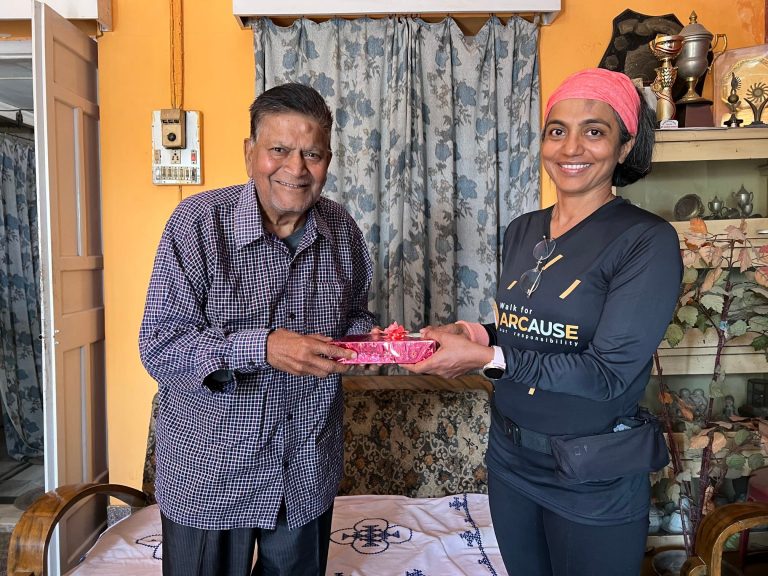 A normal walk-day for Gita starts at 5:30 in the morning and carries on till 11:30, with a short breakfast recess. Initially, Gita was covering 24-28 km daily but now she  has raised the bar to 30-35 km. She devotes the second half to meet-and-greet sessions, workshops with NGOs and interactions with school and college students. She carries a tab with relevant content, flash cards, sketchbooks, exhibition posters and panels to spread her message. 
Gita's sessions are titled 'Architecture ki Pathshala', 'Mera Ghar', 'Chale Chalo' and 'Chai pe Charcha'. She has also done two interactions with her peer groups in Jamshedpur. 
A team of three is accompanying Gita. One drives the SUV, another handles the video camera and the third, a still camera.. There was a Facebook Live on Day 4 when Gita celebrated the first 100 km, just after Arambagh.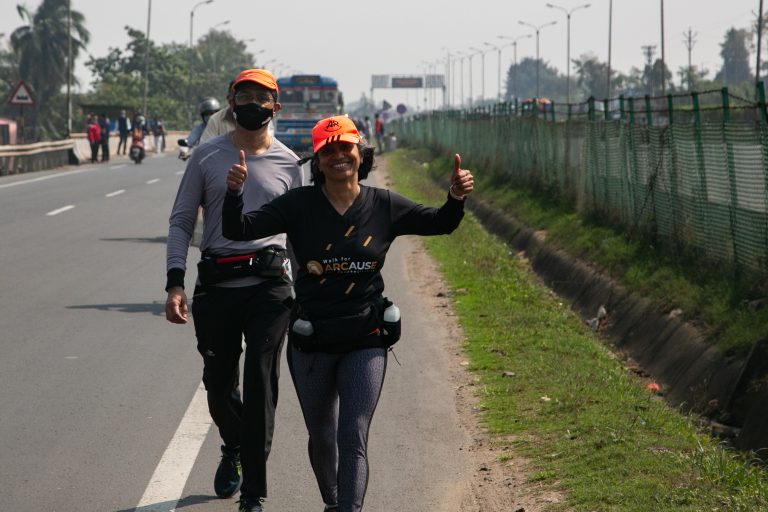 In another session, on 25th February, she waved goodbye to West Bengal while crossing the Subarnarekha river and stepping into Jharkhand. That made it an astounding 300 km-plus in 12 days! For the next few days, she will be in Ranchi. In the coming days, places dotting her route will be Betla, Daltonganj, Singrauli, Rewa, Panna, Khajuraho, Orchha,  Gwalior, Jhansi, Mathura and New Delhi. These are also the places earmarked for night halts. 
Gita is no stranger to long-distance running and walks. She is an active member of the Kolkata Runners group. Over the past five years, she has done three full marathons and many half-marathons. In many of them, she was among the top three finishers in her age group. She even ran a half-marathon in Amsterdam. In 2021, she walked 21 km for 21 Saturdays at a stretch.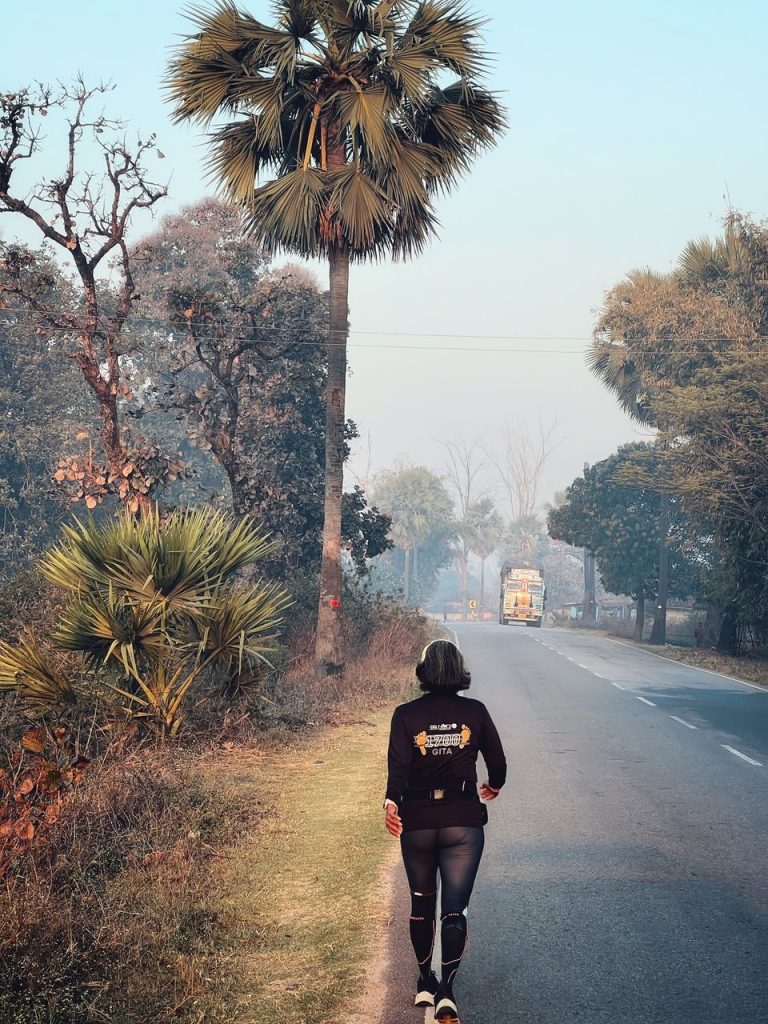 For the walk to Delhi, preparations started in mid-November. From her Alipore home, Gita's favourite walk routes were BBD Bag, Kumartuli, Narendrapur and Rash Behari Avenue. Her diet included  peanut butter, fruits, fluids, nuts, protein bars and energy gel packs. To raise fitness levels, she has done a lot of body strengthening exercises like Plank and Squat. Surya Namaskar was also on the must-do list.
Key takeaways from the walk have been summed up by Gita in one of her social media messages. This was just after she completed the first 100 km. She said: "Cities and towns have a lot to learn from villages. The wide, lush green expanse is a great stress reliever. Yes, I do miss home but I guess the rich experience more than makes up for it." 
Over a period of 22 days, the vastukar (architect) extraordinaire has covered over 500 km, held meetings, interacted with NGOs, reached out to the common man and school children, explaining the role of an architect. Reiterating her objective, she said in a recent blog, "Lack of empathy in design results in a different lifestyle lacking in warmth, compassion  and correctness." 
With the Jharkhand leg set to be over soon, Gita's next stop will be Madhya Pradesh.   
All images in this article were sourced from Gita Balakrishnan's Facebook page.