Child sexual abuse in general and incest in particular are so fragile and 'invisible' realities in society that people are scared even to discuss it much less, deal with it. Cinema is no exception. The general tendency of the masses across class, and community is to imagine that it does not exist, not realising that trying to avoid it will not make it go away. How many little girls have gotten completely negative and angry responses from their mothers when they reported that they were being abused by an uncle or a neighbour? How many little boys even understood that they were being sexually abused by some older boy in school or in the local club or within the neighbourhood?
Recently, a Bengali short film called Ikir Mikir was released on an OTT platform. It is a murder mystery which subtly elaborates the issue of child abuse and what this can lead to. Child abuse is in itself a heinous crime. When the abuser is caught, it could lead to another brutal crime and this is what Ikir Mikir tries to put across. Directed by debutant director Ratool Mukherjee, the film seems to have been shot during the lockdown in closed spaces limited to the interrogation room and corridor of a police station, the home of a single mother with her little daughter, and the entrance to the apartment block where the mother lives.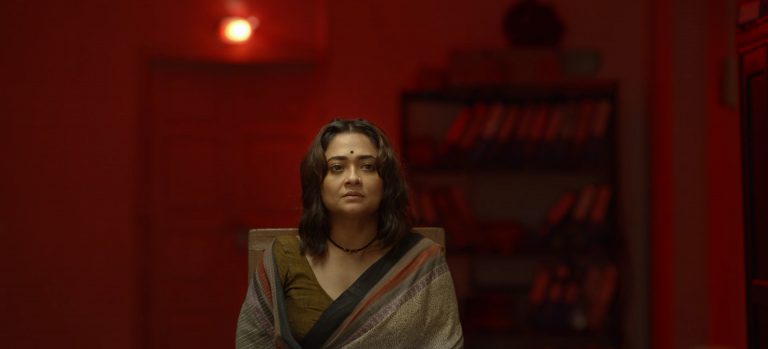 Characters are also limited to the single mother, a courier delivery guy, two security guards and two or three policemen plus a young relative who comes in to babysit when the mother has to go out. It is a polished film with good performances and wonderful cinematography. A security guard is brutally killed in the flat in which Sudesha lives with her daughter. Thereafter the plot follows the format of a whodunnit.  
The film is powerfully presented through the performance of Rupanjana Mitra, Rajatabha Dutta and Saurabh Das but is generously littered with vulgar profanities by the policeman which feels unnecessary. For a serious film like this one, it somehow spoils the finer nuances of the main subject – child abuse. 
Indian cinema by and large, tries to avoid films revolving around or even touching in child sexual abuse and/or incestuous abuse of children by older relatives. One of the reasons why filmmakers shy away from the subject is because it is sensitive and may not draw the mass audience. Another reason is that the censors might not permit a film that deals with such a delicate issue. The third reason is that actors might shy away from taking part in a film dealing with child abuse. The fourth is the conspiracy of collective silence in the larger society about child abuse makes filmmakers sceptical about dealing with such a delicate issue.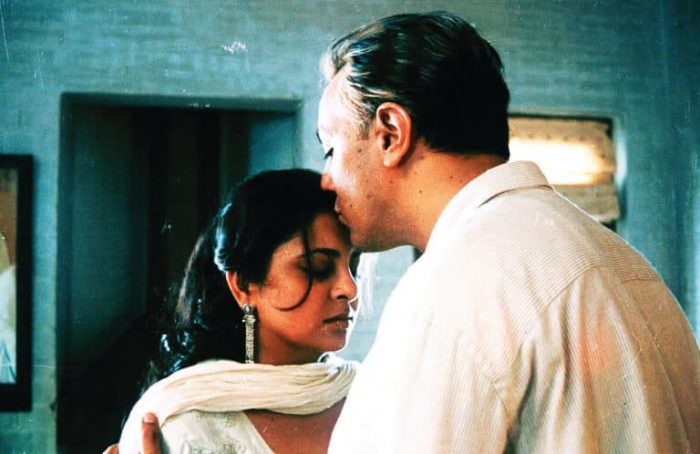 The first film that had the courage to talk about sexual abuse of a minor by an older relative was Mira Nair's Monsoon Wedding (2001).  It is a small sub-plot but comes across very powerfully towards the end of the film when the single girl in the family, Riya (Shefali Shah), reveals in front of her family that as a little girl, she was molested by her uncle Tej. Even now, he was targeting another growing girl in the same family and that is when Riya pours it all out in front of the family which failed to protect her as the man was a benefactor. However, the saving grace comes in the shape of another uncle who firmly stands by her and takes action against the abuser, giving her the strength to move on. Sadly, the lavish mounting and loud camaraderie around a wedding to be celebrated diluted the significance of this incident.  
I Am (2010) directed by Onir, comprised four short stories which, failing to find a producer, was finally crowd-funded by more than 400 people around the world. Though the stories were radical, it won accolades across the world at many festivals and also bagged two National Awards the National Award for Best Hindi Film and Best Lyrics  in 2012. One of the four stories, My Name Is Abhimanyu featuring Sanjay Suri in the lead role is about the haunting memories of consistent sexual abuse of a boy by his stepfather.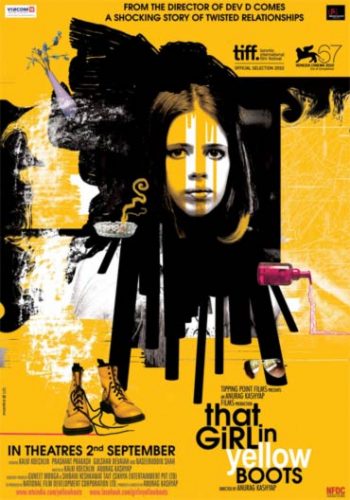 "No actor was willing to play the child abuser. Having gone through the ordeal for 11 years, I realised it was very important for the victim and for the attacker to be played properly. I hated myself for playing the perpetrator of such a crime. But someone had to do the job or the story would remain untold," said Anurag Kashyap, who played the boy's father, in an interview. The story is based on the true stories of fashion designer Ganesh Nallari and equal rights activist Harish Iyer.
That Girl in Yellow Boots (2011)  directed by Anurag Kashyap and with his then-wife Kalki Koechlin portraying the protagonist, the British-Indian girl, deals with incest in a very dark film that offers neither relief nor a happy ending. About the film, which was a risk to take, Anurag Kashyap said, "I was determined to tell a story that grappled honestly and frankly with incest in India. It is a shockingly common occurrence, but one that is rarely ever talked about." Inspired by a horrific true story of a man, his two daughters and his so-called spiritual advisor  as well as his own experiences as a child — Kashyap enlisted Koechlin to write a script that would "test our own boundaries within our country and see how far we can go, can we really tell the story."
Ruth (Kalki Koechlin) comes to India looking for her Indian father but as she is a complete outsider, she is forced to take up a job as a masseuse in a very seedy massage parlour where "extra massages" fetch extra money and she does this as life in Mumbai, she discovers, is very tough and expensive. She has no photograph of her father and finally finds him as a customer at the parlour. Naseeruddin Shah plays Diwakar, a kind but ageing man who visits Ruth to relieve his leg pain and is protective of her.  It is not only a very disturbing film but it also makes you feel extreme discomfort, thanks to the very realistic performances by the actors, all of them.
According to data released by the National Crime Records Bureau (NCRB), 2016 saw 19,765 cases of child rape registered in India — that's an insidious rise of 82 per cent from 2015, a year in which 10,854 such cases were registered (no less alarming a figure).This can also be numerically seen with what the UN Committee on Rights of the Child observed in 2014: one in every three rape victims in India is a child. 
Imtiaz Ali's Highway (2014) both the lead characters, a captive girl (Alia Bhatt) and her abductor (Randeep Hooda) strike a chord under strange circumstances. One of the contributors to their unusual equation is despite coming from different socio-economic groups and gender, both have traumatic memories of being sexually exploited in their childhood. The film ends with the girl finally exposing her abuser as the stunned family fights hard to look the other way. Towards the climax when she is returned to her family and the abductor is killed by the police, she pours out the tragedy of her own mother keeping on at "choop, choop" when she vented out the secret of a family uncle abusing her sexually again and again when she was little. The anger, hurt, and bitterness of the young girl claims that wrongly,  girls are forever warned of danger from "outside" while the villain might well be right at home and the parents either turn a blind eye, or, do not believe their own offspring because they do not want to ruffle the feathers of an affluent relative. Alia Bhatt's sparkling performance makes this a memorable part of the film.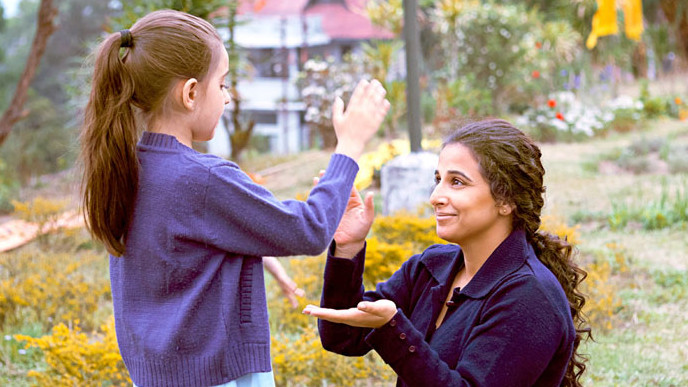 Sujoy Ghosh's Kahaani 2 (2016) points out how a little girl is abused by her uncle with tacit support from her grandmother. The little orphaned girl, is subjected to continuous sexual abuse and is too young to understand that she is being sexually abused. The family is of aristocratic bearing, very affluent and extremely powerful all of which they use to suppress their evil doings. A young staff member from the girl's school runs away with the little one to save her. The entire film is focussed on the young woman's desperate attempts to save the girl and how she becomes a foster mother to the little one while she grows up.
Various surveys have been conducted on the issue, and many report widespread prevalence of child sexual abuse (CSA) and incest in the country. Though the authenticity of such data and the methodology have been questioned, the point is, sheer anecdotal evidence itself is quite disturbing. "Bitter Chocolate" by Pinki Virani, documenting the dark world of incest and CSA, is based on the author's own devastating experience. The book created a sensation back in 2000. There are many Viranis all around us.