Wasim Kapoor, eminent painter passed away of a heart attack at his Kolkata residence earlier this month. He made Kolkata his home though he was born in Lucknow and leaves behind a brilliant and memorable collection of artworks he created all through his life. Till his last days, he kept painting and when he passed away, he was painting a portrait of Kaifi Azmi. Kapoor painted without break for fifty long years. He was also known among his friends as a very sociable person who could make friends easily and did not wear that invisible halo around his head. When one gets a glimpse into his life story, one is amazed that he took his special physical condition in his stride and lived through it triumphantly. 
The story of his life goes back to when, as an infant of six months, he fell off his bed and was so severely injured, that he lost the use of his legs and had to use a crutch right through his life. He was so seriously injured that his treatment continued for twelve years. Kapoor's parents had seven children and his elder brother, Shamim and sister Yasmin used to visit him on their way back from school bringing their drawings with them to show him. These drawings fascinated him so deeply that he began to make his own drawings.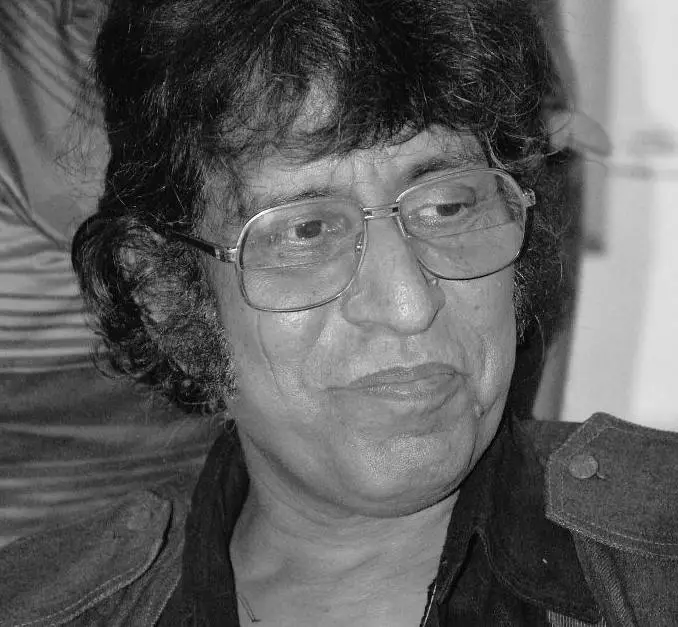 His father employed a drawing teacher for him. The teacher's name was Amit Nandan. Though he was unsure about how Wasim could be trained in painting because of his physical condition, he began to teach him the basics of drawing and painting right inside the nursing home. Teaching fine arts to a bed-ridden kid with a plastered body was no child's play. He introduced Kapoor to the art of the great painters Jamini Roy, Nandalal Basu, Michelangelo. Wasim began oil painting when he was around twelve and was selected for 'Academic All India Exhibition' and AIFACS, Delhi (All India Fine arts & Craft Society). By the time he was 14, he had participated in numerous national level art exhibitions.
Later on in life, he specialised in portrait painting and paintings with subjects revolving around marginalised people such as women. He finished his art education at the Indian Art College in Kolkata. The Principal, Bipin Goswami expressed his uncertainty looking at Wasim's condition but was persuaded by Wasim's father to accept him as a student.  Kapoor forever remained grateful for having been tutored by masters such as Atul Bose, Gopal Ghosh, Rathin Maitra, Devi Prasad Roy Chowdhury and Chittaranjan Das who was so appreciative of this dedicated pupil that he asked Wasim to take some classes in his absence.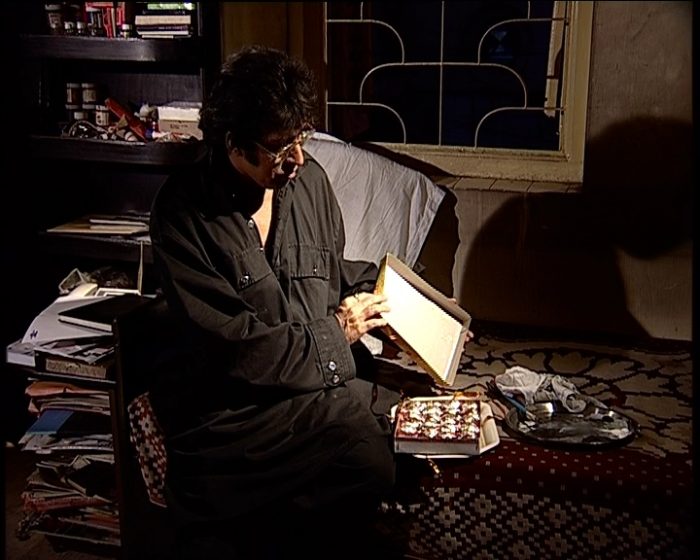 In the 1980s, he had done a series called Anti-Burqa from which a mother-daughter portrait made it to the cover of Desh, the prestigious Bengali literary magazine. Actor Victor Banerjee had seen this series when they were part of an exhibition, went to Wasim's residence and purchased the entire series for his personal collection. This marked a turning point for Wasim Kapoor as an acknowledged, acclaimed and recognized artist in his own right. He said that he was deeply inspired by Rembrandt because "he pours his inner-feelings, his emotions into his paintings. The marvellous use of light and shade in his painting is what I grew up seeing."
For his non-commissioned work, Wasim Kapoor was famous for painting portraits with their eyes closed. He did not do it for his commissioned portraits because he had to paint as his clients expected him to and was paid for the work. But for his own paintings, he kept the eyes of his subjects closed because "it adds a sense of mystery to the portrait and the painting. Closed eyes can make you wonder about various emotions. I try to make my audience think. Most of my portraits have closed eyelids, clouds to signify a sense of spirituality yet serenity."
A biographical documentary on Wasim Kapoor entitled Vision Unveiled was made  way back in 2007. Vision Unveiled, directed by Caesar Das and produced by Manibrata Das, unfolds, layer by slow layer, the life of a healthy boy who grows up watching the puja drummers perform on the streets from the window of his house, or, watching movies on a home projector within a darkened room through a twist of destiny that changes his life completely. The expression of wonder written on his face is perhaps a pointer to his great fascination for the stars who inhabit the tinsel world of cinema, his first love.  He had done dozens of portraits of celebrities belonging to the tinsel world of cinema.
The film unfolds the story of a man who rose above the obstacles destiny imposed on him who, instead of wallowing in a life of self-pity, redefined his life choosing to express himself with his palette of colours and brush on canvas. Wasim Kapoor was a familiar sight at every imaginable event in Kolkata, be it someone else's art exhibition or an event organized by the Spastic Society of India's city branch or even a glitzy film premiere. The unassuming nature of his earthy character carried no aura of the talent he had. Vision Unveiled fictionalized his childhood and early youth with actors drawn mainly from Bengali television, Das chose to focus on the artist's success despite his physical condition. 
Wasim Kapoor's oeuvre is enriched by an amazing versatility in range and choice of subject matter. From portraits of film stars to Jesus Christ in different moods and from varied angles, to his burqa series and other socially significant subjects, Kapoor did it all. Offering a multi-layered perspective, the film explores the different aspects of Kapoor's creative persona tracing the trauma he underwent as a child when he lost the use of his legs. The film moves fluidly between and among his fictionalized childhood to Kapoor himself talking about his life, work, inspiration, experience to celebrities talking about Kapoor, the man and the artist. He talks about his first encounter with Debiprasad Roy Choudhury who, impressed with the works of a young Wasim, volunteered to write the introduction to the catalogue for Kapoor's first solo show in Kolkata.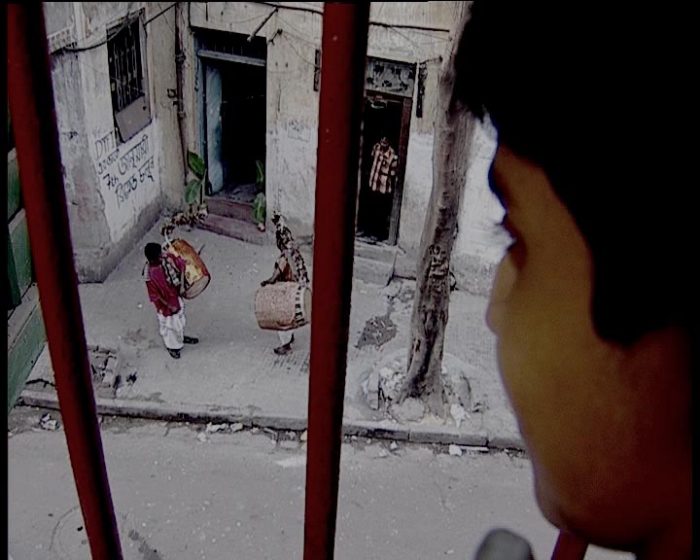 There is one amazing shot with a toddler captured in camera framed within a leg of Kapoor and his stick. Another top angle shot shows the adult Kapoor stepping out into a city lane. Yet another one shows him actually painting. Shades of darkness invest the mystique that dots the painter's life. The film captures Kapoor in an introspective mood, or, as he is beginning to paint, or as he is watching portraits of film stars, and so on.
"A ballad on celluloid about his immaculate and inherent philosophy of life," says the synopsis of the film. It would be an exaggeration to call it a ballad. But the very idea of making a film on a painter who art critics have often neglected mainly because he chooses to be people-friendly despite his talents, or, because his art does not traverse the exotic and the esoteric and is mostly something identifiable and credible to the layman. This is not to marginalize the talents of more famous celebrity painters in the country. But it is a pointer to the fact that the common man and the art critic often harbour the erroneous idea of equating the brilliant and timeless creations in art with the esoteric, the exotic, the mysterious and the confusing. May this great artist rest in peace and continue with his painting in the other world.
All images used in this article were provided by the author.