Born in 1821, about two decades after the French Revolution ended, Gustave Flaubert probably witnessed the growth of modern France before his very eyes. Today, as we celebrate his bicentenary, we are fully aware about the extent of indebtedness that Modern Literature owes to Flaubert. He is considered to be the leading exponent of literary realism in France. British critic James Wood wrote, "Novelists should thank Flaubert the way poets thank spring; it all begins again with him. There really is a time before Flaubert and a time after him."
Flaubert was born in Rouen in the Seine Maritime department of Upper Normandy, in northern France. It is believed that he began writing at a very early age – as early as eight – according to sources. When he went to study law in Paris in later years, he made the acquaintance of people like Victor Hugo among others. His highly acclaimed debut novel, Madame Bovary, which faced a trail on the grounds of immorality and which took the literary world by storm, was published in 1857. In her Foreword to Flaubert's novel, Mary Mc Carthy wrote, "If you compare her story with that of Anna Karenina, you are aware of the pathos of Emma's. Anna is never pathetic; she is tragic." Anna Karenina was published in 1878. Yes, one can really compare the two novels because the male counterparts of both the female protagonists in these novels – Vronsky in Anna Karenina and Charles Bovary in Madame Bovary – are hapless victims. The immensely popular short story writer, Guy de Maupassant, was a protégé of Flaubert.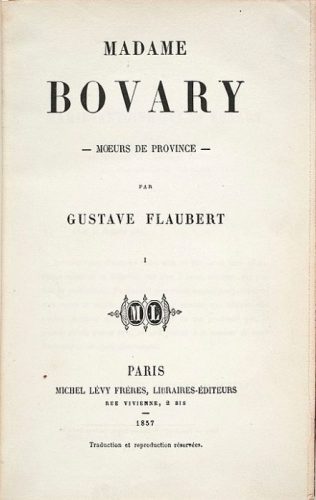 In 1846, Flaubert travelled to Brittany along with lifelong friend Maxime Du Camp. During 1849-50, he went on a long journey to the Middle East, visiting Greece and Egypt. While in Beirut, Flaubert contracted syphilis. It may be worthwhile to mention here that the writer never married and never had any children. While residing in Paris, he made acquaintances with the likes of Emile Zola and Ivan Turgenev. Flaubert was significantly influenced by Spinoza's thought. His lean and precise writing style had a large impact on a number of twentieth century writers, some of whom include Franz Kafka and J.M. Coetzee. 
Around the time when Madame Bovary was getting published, another luminous star in the literary firmament, Charles Dickens, was writing Bleak House. If one compares both these novels, on the grounds of content and style of composition, one would be left amazed at the gaping discrepancy in thought and execution within the same continent. 
Madame Bovary is often called and considered to be the first modern novel. Emma Bovary consumes arsenic poison at the end of the novel and dies. Even her husband Charles, the doctor who amputates the club foot of hapless Hippolyte erroneously, also dies. But the novel does not leave an impression of death alone as one completes reading it. The reader sympathises with each and every character, which is unique to Flaubert's style of characterisation. According to Frank O'Connor, Madame Bovary represents "possibly the most beautifully written book ever composed; undoubtedly the most beautifully written novel … a book that invites superlatives… the most important novel of the century."
Though Madame Bovary is his only work that is still popular in the English speaking world, several of his works were enormously popular when they were first published. Salammbô is one of them. He was a perfectionist when it came to his style and language and often worked on a particular book over several years. He started working on his unfinished satirical novel Bouvard et Pécuchet in 1872 and yet could not finish it till death. Finally, it was published posthumously in 1881 as an incomplete work. He also worked for decades on The Temptation of Saint Anthony. 
It may be worthwhile to note here that Flaubert was the son of a prominent physician. A solitary child, he was attracted towards literature at an early age, and after his recovery from a nervous breakdown suffered while a law student, he turned his total energies towards writing. Apart from the scattered journeys to the East, Greece, Italy and North Africa and a stormy liaison with the poetess Louise Colet, his life was dedicated to the practice of his craft.
Gustave Flaubert has been admired and written about by almost every major literary personality of the twentieth century like Michel Foucault, Roland Barthes, Pierre Bourdieu, Jean-Paul Sartre among others.