Abusive father to a violent husband, traumatic child marriage to motherhood at 13 and a series of exploitive employers could not write the destiny of Baby Halder. 
Unlike several such women in our country, the extremely spirited Baby refused to submit herself to fate, and finally conquered the world with her very own real stories of life. Her simplicity and rusticity are like her ornaments that also got reflected in her sheer style of storytelling.  
Baby's childhood would not give her any fond memories. She was even deprived of mother's love as her mother fled when she was just four years old. At 12, she was forced to marry a man at least double her age. A few years later, unable to stand the physical and mental torture of her abusive husband, Baby walked out of the house in Durgapur and landed in the national capital with three children to earn her livelihood as a domestic help.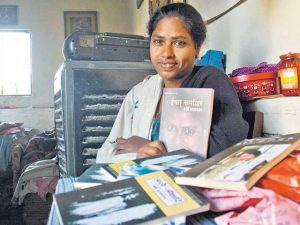 The domestic help turned writer, authored three books, all of which earned the 'best seller' accolades and also were translated in 24 languages including 13 foreign languages. Two people in Baby's life became game changers for her. They are Professor Prabodh Kumar Srivastava, a retired Anthropology professor and grandson of Munshi Premchand, and Urvashi Butalia, eminent publisher of Zubaan books (Penguin publication). 
After working as a domestic help at several houses in Delhi-NCR, Baby finally landed at Prabodh Kumar's house in Gurgaon as a domestic help. Here her fate took a 360 degree turn. With constant support and motivation of Prabodh Kumar, she wrote her first book, "Alo Andhari" in Bengali, which was later translated in Hindi by Prabodh Kumar himself and in English by Urvashi Butalia that was renamed as 'A Life Less Ordinary'. While both the translated works earned huge appreciation from readers in India and abroad, A Life Less Ordinary made Baby a literary phenomenon after it sold more than a million copies. 
Till 2016 Baby Halder was seen almost everywhere – from newspaper coverage to Special Television programmes, from lit fests to book release events. Overnight she became the talk of the town in the circle of literary personalities in the country and overseas. 
But perhaps, all these fanfares were not meant for the 'very ordinary person'. Shy in nature, she was never comfortable being called as an author and finally a few years ago she went to slumber and moved to Kolkata to live an average life. 
Baby Halder's infectious smile remained intact throughout the narratives of her journey in an informal video chat.  Baby Halder's life portrays the tale of an ordinary person's extraordinary journey.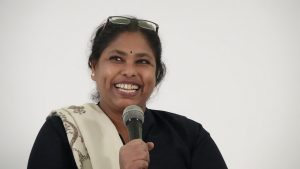 Excerpts from the informal chat with Baby Halder:
Dolonchampa: How is life now?
Baby: Not good at all. The pandemic hit us badly as I do not have any work in hand. My son and daughter also lost their respective jobs during this pandemic.  I have spent all my savings that I earned from royalty in building my house at Halisahar near Kolkata. Now, it is literally a hand to mouth situation. 
Dolonchampa: Are you working on any new project? 
Baby: I did not write anything since last year, although I have been planning to start a new project. Somehow, the present situation is not so conducive for thinking and writing. 
Dolonchampa: Please tell me about your books.
Baby: All my books are actually reflections of my life. They recount my horror stories without a trace of self-pity. My first book was 'Alo Andhari' (Darkness and Light) that was published in Bengali and translated in Hindi by my 'Tatus' (father in Polish language), Professor Prabodh Kumar and then translated in English by Urvashi di and renamed it as "A Life Less Ordinary', which became the best seller. This book received a lot of media attention and translated in 21 languages including 13 foreign languages. This book changed my life entirely and brought me in limelight. Then I penned down my second book – 'Ehshat Rupantar' (Self Portrait), which also revolves around my own story. My third book is 'Ghore Ferar Poth' (The Way Home).
Dolonchampa: Do you have plans to write on issues other than your own life stories?
Baby:  Yes, I have.  After settling here in Bengal, I worked for an NGO at the redlight area of Kolkata, Sonagachi, where I interacted with several sex workers and got to know about the struggle of their lives. Most of their stories are quite horrifying and left me with Goosebumps. I want to write on their issues. I hope this will be my fourth book, if it gets published. 
Dolonchampa: What prompts you to become an author?
Baby:  Actually, I don't qualify to be called a famous author. I am a school dropout. I do not have enough education to become an author. When I read 'Amar Meyebela' by Taslima Nasrin, I got hooked. This book drove me quite a lot to pen down the horrifying tales of my life. But without the help of Tatus and Urvashi di, I would never become an author, let alone the best seller one. Back in Bengal, I get a lot of guidance and encouragement from a famous writer, Anita Agnihotri. She encourages me to read, brushes up my language and corrects my spellings. 
But now, I would continue to write. I was lucky enough to get a scope and a platform to pen down my real life stories. But, there are hundreds of women like me in our society. Most of their stories remain unheard. I would write about their lives, plights and struggle. 
Dolonchampa: Women empowerment is the buzzword, now. Do you think women are empowered in our society?
Baby: No doubt, women are getting empowered. I think I am an example of woman empowerment. Girls in the urban limit are quite mature these days and they understand what is right or what is wrong for them. My own daughter, who is a working girl in Gurgaon, is not ready to get married now and wants to pursue her career for financial and social stability. However, the scenario in the rural belt is not at all good. Still, there are several girls or women, who go through similar social trauma in their lives and in absence of empowerment they silently tolerate. My books highlight how removed society is from the everyday realities of those who work for us. 
Dolonchampa: How supportive are your children to your career as an author?
Baby: I have three children – two sons and a daughter. My elder son, Subodh returned to live with my husband several years ago. But my younger son, Tapas and daughter, Tia are quite supportive. They always feel proud of me and encourage me to write more.
Dolonchampa: As a domestic help, how did you manage time for writing? 
Baby:  In the initial days, I would work dawn to dusk as a domestic help and write during night hours. Eventually, I started writing whenever I got time during household work. After writing the first 100 pages, I had shown to Tatus and sought his guidance. Writing has become my reason to survive. But I was unaware about the fact that my memoirs would come up as a book one day.  
Dolonchampa: You have visited several lit fests in India and abroad. Any memorable experiences to share?
Baby: As an author, I have attended several literature festivals in India and abroad, such as lit fests at Frankfurt, London and Jaipur and discussed literature with world-renowned authors. But, one experience would remain memorable to me. At Jaipur Lit fest an eminent lady author came up to me and said, "Now Baby Halder is a phenomenon and all are reading your books. Would they read our books anymore?" I replied to her, "You are an acclaimed author and you have vast readership. I am not an educated author. My stories are the honest narration of my own real stories of struggle and people liked them. To become Baby Halder, you have to get into her shoes."
Dolonchampa: How do you spend your days now?
Baby:  Now, I have enough time to devote for my betterment as a writer. During lockdown I read a lot of books authored by Mahasweta Devi, Ashapurna Devi, Taslima Nasrin and Anita Agnihotri among others. At the same time, I am working on improving my language skills and spellings. I am also planning to start writing for my new book on the plight of sex workers at Sonagachi.