In India the earliest evidence of dyeing can be traced to the Indus civilization (2300-1750 BC) where a piece of cotton was found dyed with a vegetable dye. Since then there has been a steady growth in dyes and dyeing industry as attested by several literary and archaeological evidences. Ajanta and Bagh paintings datable to early Christian period depict men wearing colourful garments indicating advances in the dyeing industry.
In fact some of the dyes namely Indigo, Madder and Kermes were introduced all over the world by Indians during early periods. By the early 18th and 19th century Indians produced a wide variety of colours and shades on almost all sorts of fibres, the techniques used were mostly simple and differed slightly from dyer to dyer.
Records show that as far back as the 12th century, several centers in the south, on the western and eastern coasts of India became renowned for their excellent printed cotton. On the south-eastern coast the brush or kalam (pen) was used, and the resist applied by the same method. In the medieval age, printing and dyeing of cottons was specially developed in Rajasthan. In Gujarat the use of wooden blocks for printing was more common. Tents were made from printed fabrics and soon they became necessary part of royal processions. The seasons largely influenced the integration of the highly creative processes of weaving, spinning, dyeing and printing. Festivals also dictated this activity.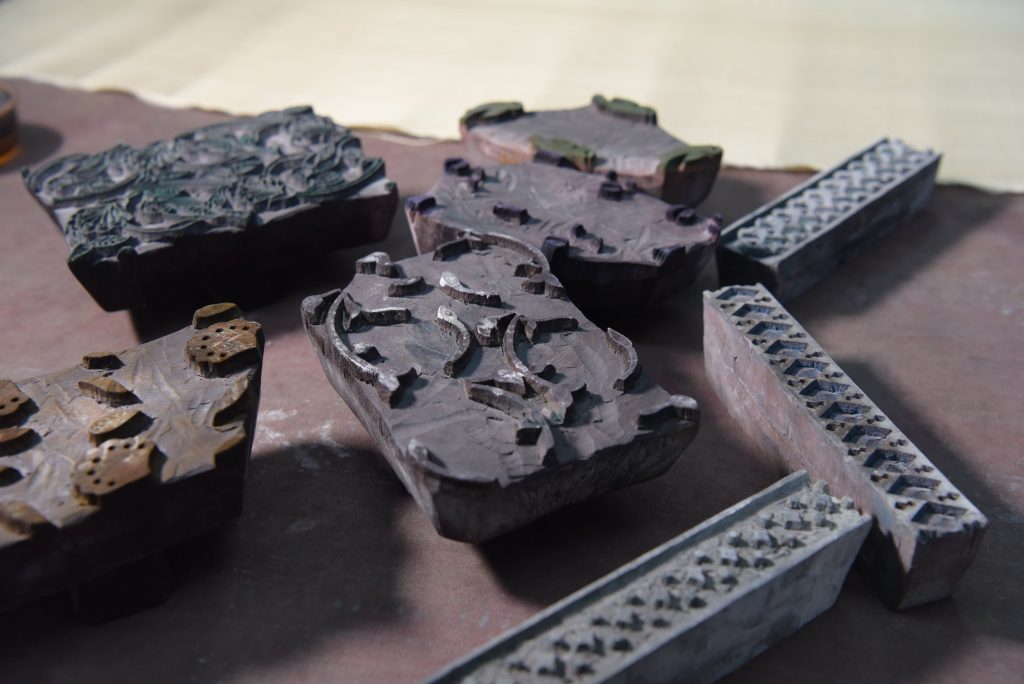 Block printing is a special form of printing first developed in China. The earliest known example with an actual date is a copy of the Diamond Sutra from 868 A.D (currently in the British Museum). Though the practice of block printing is probably about two thousand years old, trade in cotton cloth is said to have existed between India and Babylon from Buddha's time. Printed and woven cloths travelled to Indonesia, Malaya and the far East. In the 17th century, Surat was established as a prominent center for export of painted and printed calicos, covering an extensive range in quality. Cheaper printed cloth came from Ahmedabad and other centres, and strangely enough, Sanganer was not as famous centre for printing as it is today.
In more recent times there are only a few states left that still carry on with the dyeing and block printing technique with the same enthusiasm, namely Gujarat, Rajasthan and West Bengal. Textile production has long been a hallmark of Indian culture, the states of Gujarat and Rajasthan are no exception, where block printing was pioneered and is still going strong.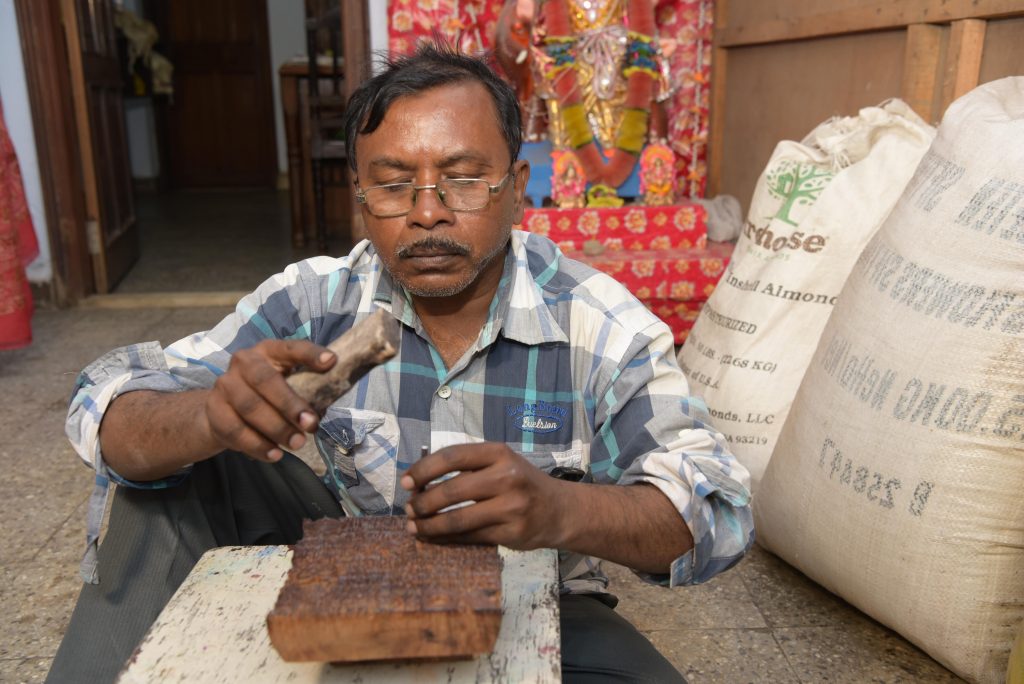 Though the art of block printing is not traditional to west Bengal, the state became a hub of block prints in the early 1940s. Especially Serampore and Kolkata became famous for block printing. Moreover, Kolkata was an important trade hub for British India and there was access to skilled workmanship through the weaving clusters in Eastern India. Each of these regions had their own distinct design elements and colour schemes. However, there had been very little innovation in their designs and techniques for two centuries and development in manual block printing and dyeing had more or less stagnated by the late 1960's.
In the early 1970's very few organisations had ventured professionally into working with textile printing and dyeing with handloom. The onset of the power-loom and large scale dyeing industries in Gujarat and Maharashtra had crippled the growth of the handloom sector. There was a revival of the sector nationally through the establishment of handloom and handicrafts boards and the deep interest of the prime minister Indira Gandhi and initial catalysts like Pupul Jaykar and Martand Singh. They took the Indian craft traditions to the world outside once again. Yet the craftspeople suffered and handloom continued to be a sunset industry with no new energy or talent that energised it.
It is at this crucial time that a handful of individual boutique ateliers such as ourselves started our foray into handloom textile and hand-block printing that focussed on keeping traditional techniques intact as were handed down from master craftspeople over the centuries and yet innovate with design, motifs and draw further from the rich tradition and narrative history of the subcontinent, referring to folklore, legends, ancient scripts and court paintings.
Over the last 5 decades the organisation has pioneered modern block printing and handloom textiles and has garnered international acclaim through its work in a singular sort of way. As contemporary society embraces new lifestyles, fashion and design sensibilities seem to once again return to the invaluable treasure of Indian handlooms. We continue to design for our patrons and find newer organisations worldwide that want to collaborate with us in bringing to life their vision of design with intricacy, delicateness and incredible skill of ancient techniques of handloom printing, weaving and dyeing in South Asia.