There are some actors and actresses whose screen presence is invested with a rare dignity, never mind the role they are playing- be it that of a courtesan, a pickpocket or an heiress. Nargis is one such actress who carried herself with dignity that verged on what is understood as "regal." Not because she wore white sarees for most of her public life. Not because she garnered her share of gossip paired with the leading star Raj Kapoor. It is ingrained perhaps, or, a person is born with or, is born into. Nargis held herself with dignity right through her life.
Nargis, better known in the industry as "Baby", was born in Calcutta on June 1, 1929 which marks her 93rd birth anniversary this year. She had a very open upbringing because of her mother Jaddan Bai, one of the first female film producers and directors of Indian cinema. Jaddan Bai was a trained classical singer and though originally a courtesan, married a Hindu who later converted to Islam. Though controversial, the marriage was a very happy one. Jaddan Bai had two sons from her earlier marriages, Anwar and Akhtar Hussain who were also very close to Nargis. When the family shifted to Bombay, Nargis was admitted to a posh, English medium school which shaped her personality. The best part of the family culture during her girlhood was the peaceful and harmonious co-existence of both Hindu and Muslim cultural practices. It gave her a wonderful upbringing in an open environment. The family kept moving between a Hindu and a Muslim identity. Jaddan Bai's third marriage turned out to be a successful and happy one though Abdul Rashid, Nargis' father, was disowned by his own family.
Her original name Fatima A Rashid was changed to Baby when her film career began as a child artist at just five or six years. Her first role as leading lady was when she was just 14 in Mehboob's film Taqdeer opposite Motilal.  In Mehboob Khan's Humayun, Nargis played a commoner and Humayun's love interest, Hamida Bano. Though she was very young, her performance did not go unnoticed. In Mehboob Khan's Andaaz, Nargis broke the prevailing norm and played the modern miss to perfection. The mirror scene where she questioned the ambivalence of her own feelings was the hallmark of her histrionic ability. It was a film made before its time. It was a love triangle where she, as leading lady, was pitted against two of the most promising stars of the time– Dilip Kumar and Raj Kapoor.
Raj Kapoor and Nargis turned out to become one of the most successful and romantic pairings in the history of Hindi cinema. Though Nargis got meaty roles in the script and in the cinematographic space of these films, it was her ethereal beauty that defined the focus. The cameraman had a field day. He captured Nargis in captivating Black-and-White with a white halo around her head caught in medium-close-ups and big close-ups with chiaroscuro light effects to reveal the dreamy romanticism in her eyes, the curve of her lips offering a perfect and symmetrical foil to the somewhat confused and disturbed, sometimes dishevelled and mostly naïve image that Raj Kapoor presented. In Aag, Raj Kapoor took the risk of taking up the role of a man whose face was disfigured with burn scars. Nargis however, is presented as her beautiful, sophisticated, modern self. If one looks closely, one observes that in keeping with the cinematic and social tradition of the time, in most films featuring this legendary screen pair, the hero's character was multi-layered and the leading lady was more a catalytic agent.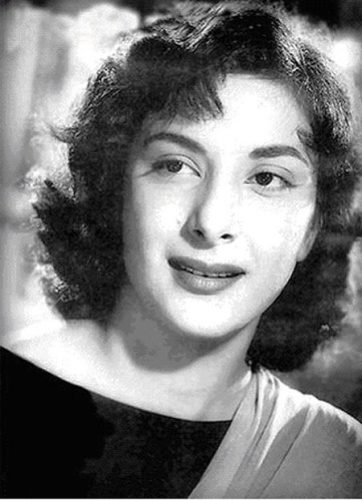 It is rumoured that during the shooting of Andaz Raj Kapoor fell in love with her because following Andaz, Kapoor and Nargis worked in a chain of 16 films most of them produced under the RK Films banner. This screen pair is one of the most popular pairs in the history of Indian cinema, perhaps comparable only to the magic created by Uttam Kumar and Suchitra Sen in Bengali cinema. Raj Kapoor organized a small bungalow within the studio complex of the RK Studios in Chembur, where Nargis stayed on for many years and though they never ever hinted at marriage, they had strong bonding and Krishna Raj Kapoor never made a single comment on the relationship. Her romance with Sunil Dutt happened during the filming of Mother India when Dutt saved her from a fire that went out of control. They had three children, Sanjay, Namrata and Priya who became a MP later on like her father and also made a documentary on her mother named after the actress.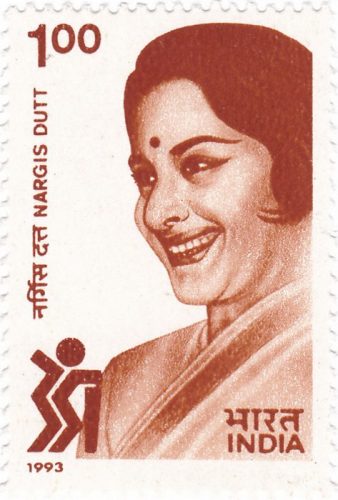 Nargis, as a powerful actress unto herself, remained in the shadow of Raj Kapoor in all RK films from Aag through Barsaat, to Sri 420, Awara and the rest. It was only when she began to work for other productions such as Adaalat, Miss India, Laajwanti, etc. and most importantly, Mother India and Raat Aur Din that she truly came into her own as an actress. Till Raj Kapoor's films, she remained a star, may be among the most popular at the time, but a star all the same. In Raat Aur Din, she played a schizophrenic after her marriage and the birth of her son. The film did not do well when released but it fetched her the only National Award for Best Actress. She quit films after the double role in Raat Aur Din reportedly because her son Sanjay Dutt, who was a toddler at the time, had insisted that his mother quit work. 
Also read: Kshetramohan Goswami the First Bengali music writer
Mother India was a modernised, much mutated remake of Mehboob's Aurat though the basic storyline remained the same. The scale of production was much grander in Mother India. Sardar Akhtar, who portrayed the protagonist torn between her two sons in Aurat did not possess the beauty or the screen presence Nargis commanded. This socio-political celluloid essay dotted with spectacle, melodrama and high hysterics highlighted the role and the plight of an Indian village woman. The film treads on safe grounds of convention and tradition as the social system of the time demanded. The feminist message, if there was one, is now dated and clichéd within convention where virginity of the young unmarried woman is converted to chastity after marriage and after her husband leaves her to face the music and never comes back. It demands a re-reading in terms of the contemporary times we live in where the role of women, rural or urban, unmarried, married, deserted or widowed, has certainly changed if not in social acceptance and recognition, but of course in terms of perspectives held by these women.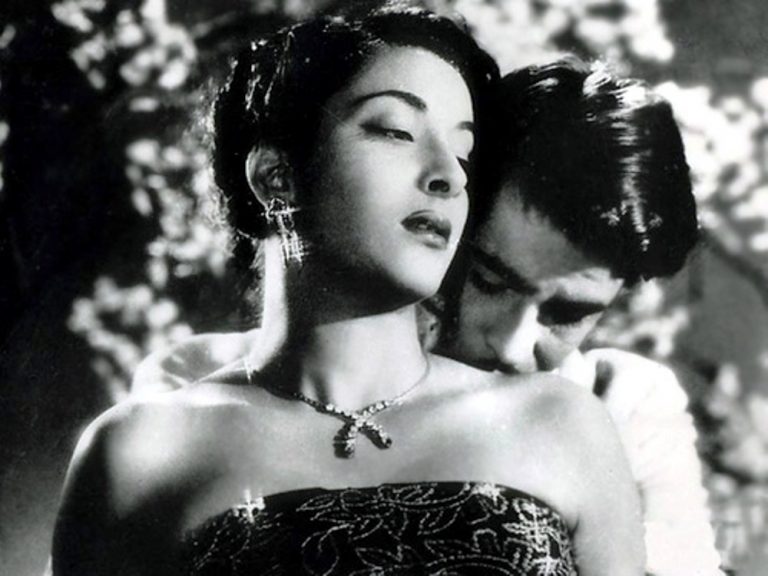 Nargis was nominated to the Rajya Sabha for her contribution to social work under the Ajanta Arts banner founded by husband Sunil Dutt to entertain the war troops at the border and also for heading another social organization. Following her death of pancreatic cancer on May 2, 1981, the road on which  the Dutts lived was renamed Nargis Dutt Road. Sunil Dutt donated a huge amount to the Sloan Kettering Institute of Cancer in the USA where a ward was named after Nargis Dutt. The Indian Postal Service released a postage stamp in 1993. The Ministry of Information and Broadcasting named a National Award named after her. Nargis passed away before Sanjay Dutt's first film premiered.
Images courtesy: Shoma A. Chatterji & Wikimedia Commons.