Among all the theatre personalities I have met over the years as a culture critic, while Usha Ganguly was the most warm and accessible, Swatilekha Sengupta perhaps, was the most 'invisible' of them all. She preferred to remain in the background though her contribution to Bengali Theatre has been far from 'invisible.' Swatilekha was so grounded and unassuming that she chose to remain in the background when she was not on stage. The result is that not much of her has appeared in the form of interviews in the media apart from her mention in the reviews of plays she had directed or acted in. Besides, she preferred to remain more or less a shadow of her much-celebrated husband Rudraprasad Sengupta though she was much, much more than just his wife and a compatriot in theatre.
She was bestowed the Sangeet Natak Akademi Award in 2011 for her rich contribution to Bengali theatre spanning several decades till she passed away of kidney complications on 16th June 2021.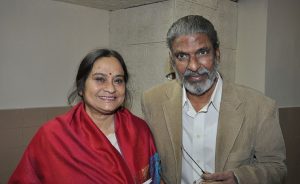 Her presence outside theatre was felt for the first time in Satyajit Ray's adaptation of the Tagore classic Ghare-Baire. In the film she portrayed the central character of Bimala opposite Victor Banerjee and Soumitra Chatterjee. Critics however, pulled up Ray for casting Swatilekha to portray Bimala which, they felt, was a character that did not suit her, adding that she had not been able to do justice to it. Criticizing Ray was suggestively blasphemous so, in later writings, not much was mentioned about Bimala or the actress who portrayed the character.  Swatilekha was deeply saddened by the negative response to her performance.
In recent times however, Swatilekha's cinematic presence has been directly linked to her performance as Bimala in Ghare Baire. Ray establishes the presence of Bimala as a protagonist by using her voice-over as narrator from beginning to end. This female voice, used as a framing device in this flashback-structured film, destabilizes, at the very outset, the popular practice of using a male voice-over and thus registering the authority of the male. It is also a departure from the narrative technique used by Tagore in the novel. The novel contains first person narration by all the three major characters.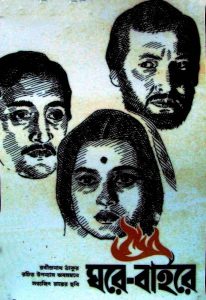 Bimala is the narrator in the film and also the protagonist. Her narration is a kind of soliloquy, a dialogue with herself, a 'look back' into a past that has brought about her 'present' and also telling her story for the audience to listen to. It is the voice of a woman who has evolved from a contented housewife, to a desiring woman hopelessly yet willingly infatuated with another man, to a grieving widow who feels purged of her guilt through her husband's death and through Sandip's sudden disappearance from her life. Ray appropriates the 'voices' of the two men from Tagore's novel and gives them all to Bimala. Swatilekha redeemed the faith Ray placed on her. 
In 1985, when Ghare Baire released, Swatilekha was already a familiar name and face in theatre in and beyond Kolkata. One of the most active and old theatre groups in Calcutta, Nandikar, headed by Rudraprasad Sengupta, held a unique position in Indian theatre for its innovative ventures. Swatilekha was an actress, music-director and occasional director of this group.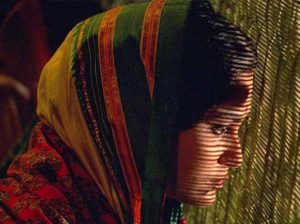 "I stepped into Nandikar in 1977, almost as soon as Rudra-Babu took over the reins when the late Ajitesh Banerjee, its founder, left in a huff. I was a stranded young mother then, with parents who showed their hostility to a daughter who had the gumption to walk out of a bad marriage with a tiny little girl in tow" said Swatilekha, with a modesty that adds to the soft grace of her persona. "Thank God I had a double first class in English literature, I was at least employed! But I was too lonely. Theatre, which already formed part of my growing-up years in Allahabad, now turned into a dedication. I was not sure about whether I would be able to live up to the responsibilities vested in me. But with the years, with the able guidance of Rudra-babu, the help and reassurance from the entire Nandikar team, I can say with certainty that today, I have reason to be happy with my latest performance" explained Swatilekha after the success of her performance in Shanu Roy Choudhury.
Having performed in many productions of Nandikar like The Caucasian Chalk Circle, Football, Nagar Keertan and Shesh Shakshatkar (adapted from The Last Appointment) and directed some of its offbeat productions like the one with a team of 40 sex-workers of Calcutta who presented a play at one of Nandikar's annual theatre festivals, Swatilekha seemed to have finally found her metier in Shanu Roy Chowdhury. This one-woman performance was inspired by and adapted from a Willy Russell play called Shirley Valentine. It opens on a 42-year-old woman Shanu Roy Chowdhury. She has two grown-up children who have moved away from home and a husband who wants his dinner served.
She is so lonely that she has ingeniously taught herself to relieve herself of loneliness and boredom by talking to the walls of her room. As she describes her husband, son and daughter, she acts those roles out herself, mimicking them with the intelligence of a gifted mimic.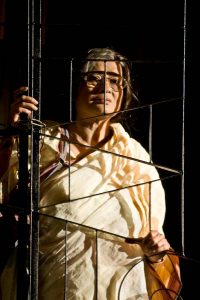 Swatilekha was an expert in both Indian and Western music, especially with the piano, violin and the flute. It is said that Ray chose her mainly because she could play the piano very well. She dabbled in painting and had the natural gift of blending acting with virtuosity, creative joy and humanism. She was invited abroad several times to act, direct and culturally interact in England, Germany, France and the US. She bore no grievance after the fact that her city of adoption, Calcutta, recognised her talents as actress and musician quite late in the day. Her husband, mentor and director Rudraprasad once said, "as the eldest in Nandikar, I have often regretted the fact that perhaps, I have failed to bring out the best in her. Willy Russell's Shirley Valentine is a great play. Perhaps Swatilekha has measured up to its humaneness and histrionic challenges. Hence, the recreation of Shanu Roy Chowdhury."
Ajnatobas (2010) directed by Sumanto Ganguly, explores the pathetic loneliness of people. It also reflects the impact of globalization and an upwardly mobile materialistic culture on values of modern lives, lifestyles and ideology. "Space is more important than people" suggests the ageing Mrs. Banerjee (Swatilekha) deceptively naïve but really very well-informed and knowledgeable, once soon after the play begins. She has come to an affluent bungalow in one end of the city, asking Payel, (Sohini), a young housewife, for a glass of water. Both find common ground in their loneliness shut out from a world once filled with people, relationships, a large family and love. Swatilekha gives the performance of her career as Mrs. Banerjee whose true identity we never learn as much as where she lives and with whom. It is a multi-layered performance that demands volatile changes in facial expressions which she lives up to.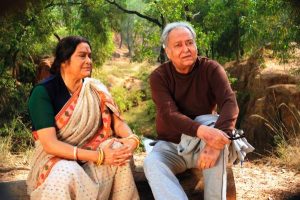 Mother, Swatilekha and daughter, Sohini, also a powerful actress-director in her own right, first acted together in, Gotraheen (adapted from Arthur Miller's A View from The Bridge), directed by Rudraprasad. It was a portrayal of a working class family in which the middle-aged uncle (Rudraprasad) falls in love with his teenage niece (Sohini). "It was intense as I had to kiss my father. But Ma was by my side and made me comfortable enough to do it," says Sohini.
31 years after Ghare Baire, Swatilekha was persuaded to step into films again in Shiboprosad Mukherjee and Nandini Roy's Bela Sheshe. She portrayed the loyal wife who agrees to divorce her husband (Soumitra Chatterjee) many years after marriage. It was a mainstream film which turned out to be a thumping box office hit. Their next pairing was in Bela Shuru, a sequel of the earlier film. Unfortunately, it was stalled from release because of the pandemic.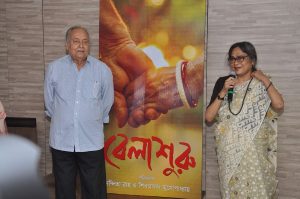 In 2002, Swatilekha directed her daughter in the play, Khuje Nao. "My mother was very professional and could not tolerate tardiness. When the lights came on, she had no personal relationship with me. Working under her made me more professional and sincere," says Sohini.
"Swatilekha inspires reverential awe," says one noted educationist from Calcutta about this actress' performance. What better compliment can an actress who has strived her entire life for perfection, aspire for?
Images courtesy: Pinterest