You don't need to be a history enthusiast to know the intricacies of paper conservation. Paper conservation is perhaps one the most cherished ways to stay in touch with a time that was. Simply put, paper conservation is the preservation of a wide range of rare and valuable objects that are paper-based. The paper objects, due to their vulnerability, must be cared for properly to ensure their appreciation and value for decades to come. Such vulnerability comes from the chemical change that occurs through cellulose deterioration that is caused by light, humidity and air pollutants, as well as contact with harmful materials such as some pressure sensitive tapes. Deterioration can also occur through the improper handling of the objects and biologically via exposure to active mould spores. 
Says Jayanta Sengupta, curator Victoria Memorial Hall (VMH) in Kolkata, "From a museum's point of view the idea of conservation has become stronger much later in the 19th century. It is very important to keep track of the quality of conservation and restoration. If there is a crack or a tear in the paper, one has to meticulously stabilize the surface without altering the artistic value of the archive. Most conservation laboratories are kept away from the public eye. Conservation is essentially science, more so a study in chemistry and climate science. Awareness of the material or medium of art object is of paramount importance. For example, VMH has recently acquired a collection of 5,000 watercolour paintings from Rabindra Bharati Society, belonging to the Bengal school of art. This includes the famous Bharat Mata as well. There are original pieces by Abaninadranath Tagore and Gaganendranath Tagore. Most of the time the Tagores are not using proper art paper for their work or they could have just been grabbing whatever paper is available at hand. This kind of art is difficult to conserve as the chemical properties of the paper are susceptible to deterioration."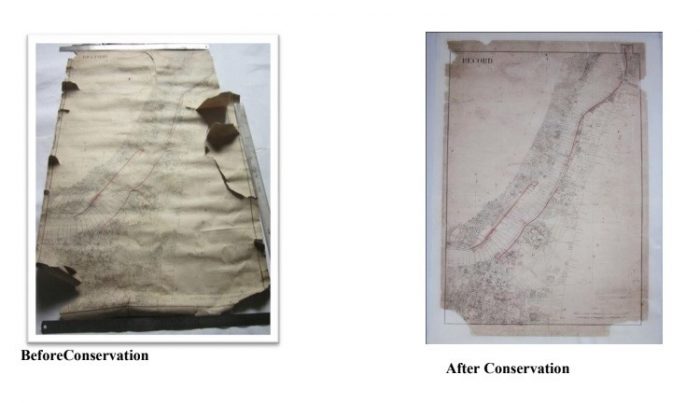 Human skin has acid, especially our fingers which is why touchscreen works. If one happens to touch an art work without specialized gloves, the paper becomes stained and minute amounts of acid is transferred from finger to paper. Light darkens paper, just like it oxidizes jewellery or new books turn yellow over time. The chemical reaction on paper is sensitive to light and humidity as well. For example, a polished metal canon will deteriorate way more slowly than paper or textile because paper and textile are organic objects. Paper tends to have nutrients that entrap pests, silverfish, etc. 
"We have ordered a large consignment from a company based in the United Kingdom called Conservation by Design. We have brought in mount boards made of acid-free paper and transferred the water colour paintings from acidic mount boards to non-acidic mount boards so that they would not stain. VMH is also working on a manuscript copy of Firdaus's 'Shahnama' in Persian that we have acquired from a native prince. Conservators are the unsung heroes of any museum. Their work is often unrecognized even though it is time consuming where one has to use techniques to treat the piece with heat and moisture from behind, otherwise it will sag. It is very similar to the use of silicon and cellulite in cosmetic surgery. Here the cellulose chemical holds the surface of the canvas firm," he added. VMH has also been working to restore archival treasures belonging to The Calcutta High Court, Presidency University and Raj Bhavan entirely free of cost.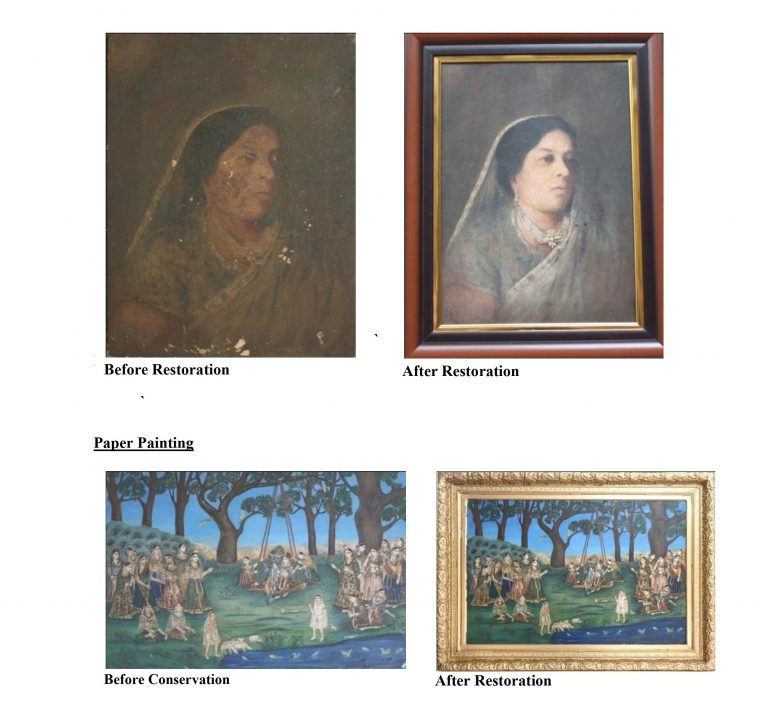 The Indian National Trust for Art and Cultural Heritage (Intach) has also been working diligently on paper conservation. Some of the techniques used at most laboratories of Intach for paper conservation are ultrasonic humidifier, nebulizer, specialized sinks for wet chemical treatment, light tables for mending, lux meter to keep light exposure in check, thermal cameras, multi spectrum imaging kits, etc. Typical conservation treatments include surface cleaning, removing previous interventions such as pressure-sensitive tape, mending and poor quality matting materials, reducing dis-colouration and staining, flattening paper distortions, etc. 
Recently Intach has completed work on Mak Dhog Monastery, Aloobari, Darjeeling Project. The Mak Dhog Monastery, Aloobari, Darjeeling is run by Yolmo Buddhist Association. The monastery has a collection of manuscripts, wooden plaque, mask and other objects. Of these, Intach has restored two old manuscripts such as Gyetongba which is written in gold and Kagyur (tripitika), which are Buddha's oral teachings. It has also restored 21 wooden masks, 137 wooden plaques, 4 mud idols and 157 other manuscripts. Also noteworthy is their work on The Port Trust, Kolkata which has a large collection of old drawings and maps from 1847 onwards. Out of them Intach has conserved 18 old drawings and maps at the site.
Priya Kapoor, Director International Heritage Conservation, New Delhi said, "The material is the determining factor for paper conservation. We then look up the history of that paper and use techniques like infrared analysis, ultra-violet techniques, spectrometry and several other studies that need to be done before we begin work. But every piece of artwork has its typical sensitivities, there is no general rule to be followed for all. Each piece has to be treated in a unique manner."
She also warns of frequent forgery attempts, especially in the field of paper conservation. "It is very common to come across forgery in this field. However, the three basic things to study in a piece while determining its authenticity are visual analysis and a careful comparison of historical data available from that period to which it claims origin. If any one of these don't match, we are always in doubt," she pointed out.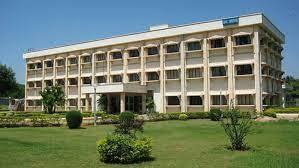 Conservators also provide private consultation and treatment of paperwork in possession of private collectors. The categories include scrolls, maps, posters, photographs, water colours, pastels, sketches, screen prints, drawings, etc. For those looking to pursue a career in this field, state of the art courses are available in several institutions across the country. These include the National Museum in Delhi, National Research Laboratory for Conservation of Cultural Property in Lucknow, Chhatrapati Shivaji Maharaj Vastu Sanghralaya, Mumbai and several colleges in Chennai.
"There is a lot of debate about what background you need to have in academics to pursue a career in conservation and restoration. There is one school of thought that insists on a degree in chemistry, especially because a knowledge in chemical reactions is required. However, there is another school of thought which says a degree in chemistry is not essential and I agree with them. The unit should have somebody who specializes in chemistry but the candidate must also have a fair idea about how to get the work done. Not every museology student can be a good conservator," Sengupta pointed out.
Images used in this article were provided by the author.